UniCredit Plans New Debt Tool as Draghi Urges Banks to Lend More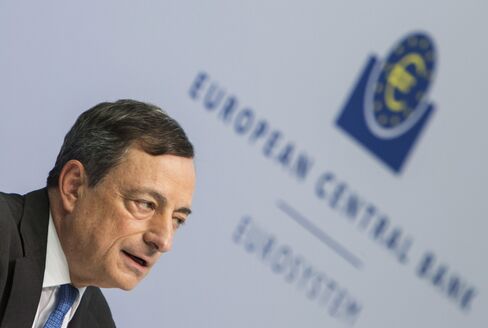 Italy's biggest bank is planning a new funding tool to address a shortage of affordable credit for Europe's small and mid-sized businesses.
UniCredit SpA wants to sell as much as 500 million euros ($558 million) next year in European secured notes backed by loans to small businesses, according to Waleed El-Amir, head of group strategic funding. Modeled after covered bonds, the debt would give investors access to both collateral and issuer assets in a default.
"By mimicking the technology and having the dual recourse structure, I think it's easier to make a case for this and to bring down the pricing you have for the client," El-Amir said. "It doesn't really cost banks that much more to give recourse."
European Central Bank President Mario Draghi is pressing banks to do more to ease the credit crunch threatening smaller businesses, whose reliance on bank loans made them particularly vulnerable to the deleveraging that followed the financial crisis. Stricter regulatory requirements are exacerbating their plight as banks avoid assets that add to capital burdens.
But the new debt class may face some hurdles. Issuers are keen to market it as a product similar to covered bonds. The covered bond industry wants a clear distinction, warning securities backed by small-business loan pools don't live up to the strict requirements needed to earn the coveted label.
'Pretty Conservative'
"Covered bond investors are pretty conservative," said Fernando Cuesta Blazquez, head of long-term funding and treasury at Bankia SA. Though he sees the new instruments as viable, issuers need to be aware that investors "are usually reluctant to have any collateral different from mortgages or public sector" loans.
The European Covered Bond Council introduced the concept of European secured notes earlier this year in part to discourage applying the term "covered bond" to instruments that aren't backed by mortgages or public sector loans. El-Amir serves as the deputy chairman of the council.
"There is space to use the technology -- and we can call it another name if people are sensitive," El-Amir said. UniCredit, for instance, is also looking at using leasing assets as collateral, he said.
Mixed Signals
Meanwhile, small and mid-sized businesses are eager to gain access to the new funding form. While loans to larger corporations have returned to levels from a decade ago, lending to smaller companies remains below pre-crisis levels, according to a July report by the European Banking Authority. Companies also are paying more to borrow, the EBA said.
The ECBC is organizing a meeting in October to discuss secured notes with Europe's major banks and regulators. That "will give us more light regarding regulators' view," Agustin Martin, head of European credit research at Banco Bilbao Vizcaya Argentaria SA, said in an e-mailed response to questions.
The extent to which the new instruments are embraced by banks will depend on whether they can be used in repurchase agreements and to meet requirements for liquid assets, Martin said. Also key will be the level of capital investors including banks and pension funds would be required to hold against the securities, Martin said.
Yet according to El-Amir, "even without preferential treatment, it makes sense" to issue the notes. That's because the pricing is lower than both asset-backed securities and senior unsecured debt, he said.
Before it's here, it's on the Bloomberg Terminal.
LEARN MORE