Turkey Downgrade Already in the Price as Bonds Trade Like Junk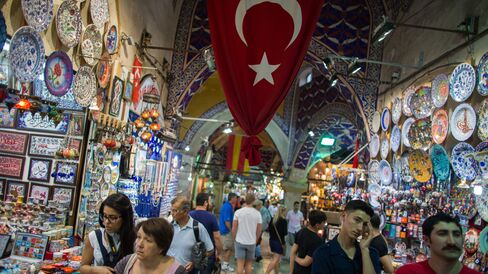 Turkey's debt has all the characteristics of junk bonds -- without the rating.
Record lira weakness, a political stalemate that threatens to leave the country without a government, escalating conflict with the country's Kurdish minority, a looming repeat of June's general elections, a terrorist bombing in the heart of Istanbul, a central bank that investors accuse of doing too little, too late and a push against Islamic State on the southern border are combining to undermine Turkey's hard-won investment grade.
Of the six countries whose foreign debt Moody's Investors Service rates at the level just below Turkey's, five have lower yields. Only Russia is higher, meaning Turkey is deemed more risky than junk-level countries including Morocco, Paraguay and Guatemala.
"The market is moving ahead of rating agencies in trading Turkey credit as sub-investment grade," said Abbas Ameli-Renani, global emerging-market strategist at asset manager Amundi in London. "The single biggest factor is the deterioration in the domestic political outlook and the escalation of geopolitical risk."
Turkey has had investment-grade ratings from Moody's and Fitch Ratings Ltd. for more than two years, after the government led by then-Prime Minister Recep Tayyip Erdogan improved public finances. Standard & Poor's rates the country at its highest junk level.
The two investment-grade ratings shows Turkey fulfills the criteria that many international investment funds require to buy its government bonds. Losing one would worsen bond outflows already totaling over 4 billion dollars this year.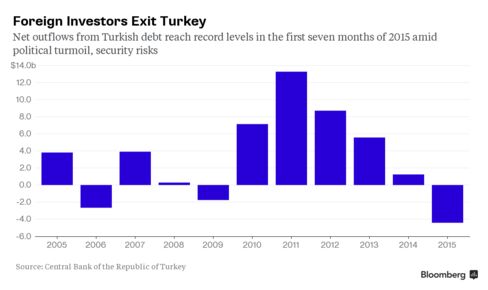 Downgrade Chances
"I'm pretty sure Turkey will be downgraded if things don't change, and it's hard to see where that change is going to come from," said Markus Kiraly, head of the emerging markets' foreign exchange trading desk at Toronto Dominion in London. "What the country needs is a stable, democratic government and an independent central bank."
Both of those were made more remote this week. Coalition talks that aimed to resolve June elections that denied a majority to the party Erdogan led before his presidency failed to produce agreement, pushing the country closer to a repeat vote. And on Tuesday the central bank decided against raising interest rates. Instead, it published a policy road map that economists at Standard Chartered Bank dismissed as 'brief, vague and free of market-supportive announcements.''
Turkey's political turmoil was compounded further when the acting government began bomb attacks in July. Markets were spooked when the campaign against separatist elements of Turkey's large Kurdish minority brought a sudden end to the cease-fire that Erdogan had formerly championed.
Islamic State
Turkey also dropped bombs on fighters for the self-declared caliphate on its border. The scale of the Islamic State assault compared to attacks on Kurds prompted accusations from Turkish parliamentarians that the assaults were being used as cover to target political opponents at home.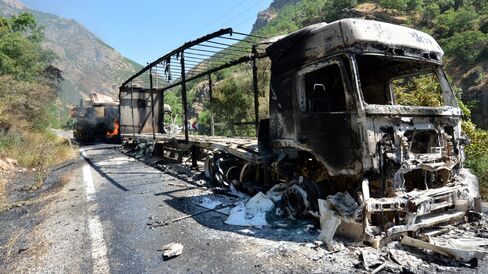 Opposition parties have all called for Erdogan to retreat to within the constitutionally defined limits of his power, a demand that has so far prevented any deal.
Credit default swaps -- contracts insuring against debt default -- imply Turkey is perceived to be at its riskiest since 2012. Moody's rates Turkey at its lowest investment grade, with a negative outlook.
Turkey's debt is riskier now than when it was officially rated junk. The 10-year dollar bond yield is 5.14 percent, compared with 3.7 percent for comparable debt issued before Moody's May 2013 upgrade. Fitch was the first of the three ratings companies to upgrade Turkey, and keeps it on the lowest investment grade rating of BBB-. S&P rates Turkey at the highest junk level of BB+.
"Historically, Turkish assets have always been trading much better than their rating," said Kiraly. "Now where they're trading is implying a downgrade."
'Great Shape'
Credit-default swaps aren't the only indicator of Turkey's creditworthiness, said Ozgur Altug, Turkey economist for BGC Partners Inc. in Istanbul. Deficit and debt ratios indicate Turkey is in "great shape," he said.
"It is true that there is a serious terrorism threat and serious political mess, but downgrading Turkey's investment-grade rating might be a little bit harsh as of today," he said. "However, if political uncertainty continues, if budget balances worsen due to elections, then we might fear a downgrade."
Moody's passed up the opportunity to issue a comment at its most recent scheduled Turkey announcement earlier this month. "We would not be surprised to see a formal downgrade," Goldman Sachs economists Ahmet Akarli and Kasper Lund-Jensen had written prior to that decision.
Representatives for both Fitch and Moody's declined to comment on the possibility of a downgrade. In June, Moody's analyst Alpona Banerjee said the election result was credit-negative as it increased political uncertainty and delayed necessary reforms.
For more, read this next:
Before it's here, it's on the Bloomberg Terminal.
LEARN MORE