Sysco Adds Peltz to Board After His Firm Trian Buys Stake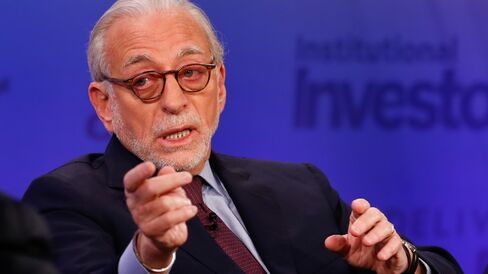 Sysco Corp. added two directors from Trian Fund Management to its board, a week after the activist investment firm disclosed a 7.1 percent stake in the food distributor.
Nelson Peltz, Trian's billionaire co-founder, and Josh Frank, another partner in the firm, will join the board on Friday, according to a statement from Houston-based Sysco. The move will increase the size of the board to 12.
"Nelson and Josh will bring our board an informed perspective based on their significant experience in the food products industry," Jackie Ward, Sysco's nonexecutive chairman, said in the statement.
Sysco shares surged on Aug. 14 after Trian announced its stake, saying it would seek representation on the board. The firm has a history of pushing for changes at the companies it invests in. When it disclosed the stake last week, Trian said Sysco could improve its operating margins, consider borrowing money to return more capital to shareholders and "better align management compensation with corporate performance."
Last week's rally helped push the stock into positive territory for the year, but Sysco has lost some ground this week. It fell 1.2 percent to $40.07 as of 10:55 a.m. in New York on Friday, leaving its year-to-date gain at about 1 percent.
Foiled Deal
Peltz's move follows a foiled merger earlier this year. Sysco terminated its planned $3.5 billion takeover of US Foods Inc. in June after a federal judge blocked the combination. Instead, it added $3 billion to its stock-buyback program. Trian has a fondness for food and beverage giants, having earlier invested in PepsiCo Inc., Mondelez International Inc., Kraft Foods Inc., H.J. Heinz Co. and Wendy's Co., among others.
As part of the board changes announced Thursday, Peltz will join the corporate governance and nominating committee. Frank will be added to the compensation and finance committees.
"Sysco is a leader in its business, and we believe it is undervalued and has tremendous long-term potential," Peltz said in Thursday's statement. "We welcome the opportunity to work constructively with the board and management."
The food distributor said last week that it was "staying the course" on its strategy and would continue to work to drive long-term shareholder value.
Trian, founded by Peltz with partners Peter May and Ed Garden in 2005, manages more than $10 billion and focuses its activist investments on consumer, industrial and financial companies -- in particular conglomerates.
The partnership began in the 1970s when May became chief financial officer of a regional food distributor controlled by Peltz, who is now 73. Over the decades, the pair built a packaging giant, a fast-food restaurant company and a beverage corporation that acquired Snapple and was ultimately sold to Cadbury Schweppes. Garden joined the pair in 2003.
Before it's here, it's on the Bloomberg Terminal.
LEARN MORE