Mexico GDP Growth Beats Forecasts as Services Provide Boost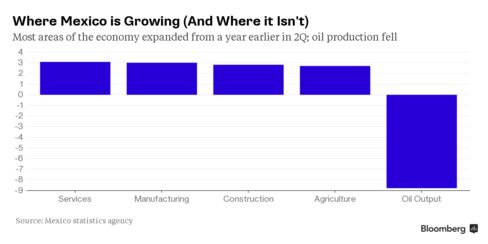 Mexico's economy expanded more than forecast in the second quarter after a pickup in domestic demand spurred a growth in June.
Gross domestic product rose 2.2 percent from a year earlier, the national statistics institute said Thursday, compared with the 2.1 percent median forecast of 24 economists surveyed by Bloomberg. GDP advanced 0.5 percent from the previous quarter.
Retail sales and consumer credit helped fuel "moderate growth" in the second quarter, Banco de Mexico Governor Agustin Carstens said in a presentation last week. While growth forecasts have been falling due to tumbling oil prices and output, the Mexican economy is still likely to expand this year by 2.5 percent, the fastest since 2012, according to analyst estimates compiled by Bloomberg.
"The key message here is that the economy is growing, thanks to solid domestic demand, but it is not gathering speed," Andres Abadia, an economist at Pantheon Macroeconomics Ltd., said in a note to clients. "The Mexican economy had a relatively solid first half of the year despite the substantial hit from lower oil output, and, in particular, the decline in manufacturing exports."
The peso weakened 0.8 percent to 16.7570 per U.S. dollar at 9:19 a.m. in Mexico City after touching a record low earlier Thursday.
Retail Gains
The strength in services industries probably reflects spending leading up to Mexico's midterm elections that took place June 7, said Marco Oviedo, Barclays Plc's chief Mexico economist.
"It's a positive number, with caveats," Oviedo said. "We might see risks to manufacturing given all the uncertainties in the global environment. The recovery of the economy is taking place at a very slow pace."
Growth fell from a revised 2.6 percent in the first quarter, according to the statistics institute. In the second quarter, services industries increased 3.1 percent from a year earlier, manufacturing advanced 3 percent and agricultural activity rose 2.7 percent. Oil production tumbled 8.8 percent.
In June alone, the economy jumped 3.1 percent from a year earlier, the fastest pace since December and more than the 2.5 percent increase estimated by analysts. The services sector jumped 4.4 percent, the fastest in more than two years.
Sales Growth
Sales at stores open at least a year expanded in May at the fastest pace since 2012, according to the Antad trade group, which represents chain stores including Organizacion Soriana SAB and Grupo Sanborns SAB. Consumer staples companies are posting this year's biggest gains on the benchmark IPC index of 35 Mexican stocks, led by tortilla maker Gruma SAB, milk producer Grupo Lala SAB and Wal-Mart de Mexico SAB.
The central bank cut its 2015 growth estimate to between 1.7 percent and 2.5 percent last week following a decline in oil output. The previous forecast was for an expansion of 2 percent to 3 percent.
"Second-quarter growth was better than we expected, but manufacturing has been weakening," Rodolfo Navarrete, the head of research at Vector Casa de Bolsa, said by telephone from Mexico City. "We're likely to see a slowdown in the second half of the year."
Before it's here, it's on the Bloomberg Terminal.
LEARN MORE