Macquarie: Why the Canadian Dollar's Drubbing Could Last a Decade
Canada's housing advantage is fleeting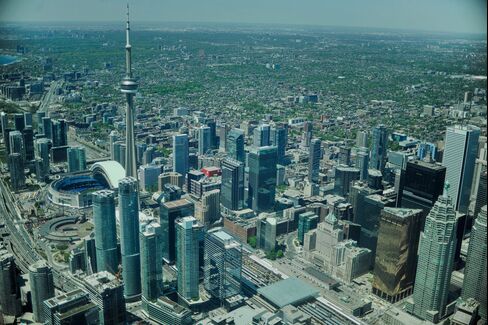 The Canadian dollar, commonly known as the loonie, has taken a beating over the past year, sinking to an 11-year low against the U.S. dollar in July.
The currency has since extended its decline to break below 76¢ (U.S.).
The loonie's swoon has presumably been linked to the cratering price of oil, which prompted two rate cuts from the Bank of Canada in the first half of 2015, a period in which the economy likely suffered a technical recession.
Macquarie analyst David Doyle, however, sees a larger macroeconomic theme that will drive U.S. economic outperformance of its northern neighbor and propel the loonie to fresh lows against the greenback. Based on similar historical examples, this rough patch for the Canadian dollar could last up to 10 years.
What's relevant for the current period, says Doyle, is that the U.S. has strong momentum in the housing market, which provides a tailwind for the economy. For Canada, however, this segment will present more of a headwind in the future.
The analyst produced a chart showing that residential investment's share of gross domestic product in Canada is extremely elevated relative to that of the U.S., with a gap of more than two standard deviations above its historical norm: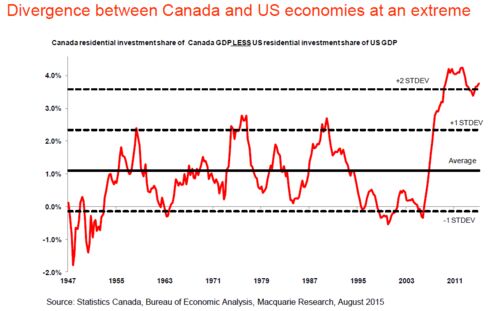 The narrowing of this gap in recent quarters has coincided with a bout of weakness in the Canadian dollar.
If this episode replicates the ones that commenced in 1976 and 1989, in which the differential continued to shrink, the softness in the Canadian dollar could be a decade-long affair: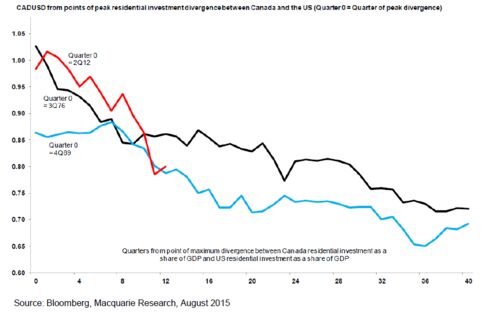 The U.S. housing market will pick up the steam lost by its Canadian counterpart—and this will drive relative expectations for monetary policy, interest rate differentials, growth, and employment in the two countries, says Doyle.
Macquarie expects the Canadian dollar to fall to 69¢ U.S. (making the U.S. dollar equal to 1.4493 Canadian dollars) in the first half of 2016.
Before it's here, it's on the Bloomberg Terminal.
LEARN MORE