London Tube Talks 'Constructive' as Dialogue Enters Seventh Day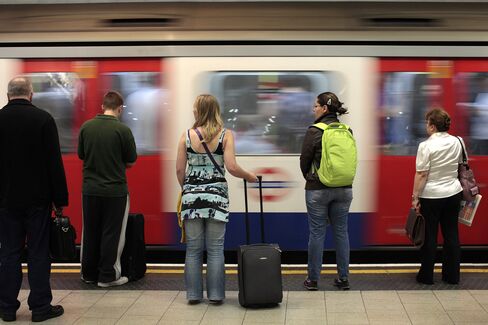 London Underground Ltd. is set to enter a seventh day of talks aimed at averting strikes next week amid what Transport for London, which oversees the Tube, said is a "more constructive" atmosphere with unions.
Negotiations with London's four subway unions continued Thursday via the state-sponsored Advisory, Conciliation and Arbitration Service, and are poised to extend into Friday, TfL spokesman Sandeep Dhillon said.
"We've had a sixth day of constructive talks, whereas before we had a situation where unions were walking out of meetings and that kind of thing," he said. "Talks went on to 8:30 in the evening last night. That's a positive development."
Communication with unions has improved since last week, when TfL said that the Rail, Maritime and Transport union had made new pay and staffing demands for accepting a new Night Tube proposed by London Mayor Boris Johnson. The service is slated to run at weekends on five lines starting Sept. 12.
Should two back-to-back 24-hour strikes take place as planned from next Tuesday, disruption may be less than during previous walkouts, when the Tube shut down completely, with drivers' union Aslef not planning to take part, TfL said.
"With drivers available it's possible that some trains will run, but that depends on how many stations are able to open," Dhillon said. Station staff are members of the RMT, TSSA and Unite unions, which all plan to strike, he said.
Subway workers have been offered a 2 percent pay increase this year and at least 1 percent in 2016 to back the Night Tube, plus a 500-pound ($784) bonus on affected lines and a 2,000-pound lump sum for drivers. Unions say proposals for the service don't take into account the impact on personal lives.
Before it's here, it's on the Bloomberg Terminal.
LEARN MORE