Israel Prepares to Sell Billions Worth of Offshore Gas Fields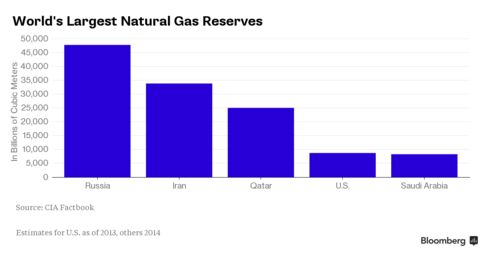 Israel moved one step closer to selling stakes worth billions of dollars in its offshore natural gas fields after the Cabinet approved development plans that may lead to exports of the fuel for the first time.
Israel's Delek Group Ltd. and Houston-based Noble Energy Inc. would have to reduce or sell stakes in the Tamar field in a bid to increase competition, according to Cabinet plans approved Sunday. In return, they could keep control of Leviathan, the world's fourth-biggest offshore natural gas discovery in the past decade. Italy's Edison SpA said it's interested in Israel's smaller gas fields.
The plan, pending approval by parliament and the economy minister, would allow Israel to export as much as 1.5 billion cubic feet a day by 2025, said Thomas Driscoll, analyst at Barclays Plc who rates Noble Energy "overweight." That's more than half of Norway's average shipments to the U.K.
"Israel was unprepared for the magnitude of the discoveries and it has revisited terms several times," Driscoll said in an interview by e-mail on Tuesday. "The partners need to know what the rules are before they will proceed with billions of dollars of investment." The Cabinet plan "could be a watershed moment for the Israeli gas industry," he said.
Rewriting Rules
Tamar was discovered in 2009 and Leviathan in 2010, and Israel has tried to rewrite gas development rules ever since. Leviathan contains about 22 trillion cubic feet of natural gas and Tamar has about 10 trillion, totaling about 10 percent of reserves in Saudi Arabia, the world's fifth-largest holder of the fuel, according to the CIA Factbook. Tamar, the 10th biggest offshore gas discovery in the past decade, is worth an estimated $14.4 billion, according to Barclays. Leviathan is the fourth biggest discovery, the bank estimates.
Under the government plans, Noble Energy would have to trim its share in Tamar to 25 percent from 36 percent, and Delek would have to sell its 31.25 percent stake. Delek and Noble would also need to sell two smaller gas fields in the eastern Mediterranean, Karish and Tanin.
"This outline is a significant improvement over the existing situation," Israeli Prime Minister Benjamin Netanyahu told cabinet on Sunday. The development of the natural gas fields is "crucial to Israel's economic and strategic situation," he said.
Delays in developing the fields, along with lower oil prices, have contributed to a 7.5 percent decline in Delek trading in Tel Aviv in the past year, and 51 percent drop in Noble Energy in New York. This year, Delek has gained 18 percent and Noble declined 28 percent.
Sell Gas
The partners in the fields have taken steps to sell gas to companies in Egypt, Jordan and the Palestinian territories. Union Fenosa Gas SA of Spain signed a preliminary agreement in February to ship fuel from Tamar to its under-utilized gas liquefaction plant in Damietta, Egypt. The Egyptian government used to export gas by pipeline to Israel until 2012, when it suspended supplies due to repeated sabotage of the link in the northern Sinai region. The Union Fenosa deal has been on hold awaiting Israel to complete its gas export policy.
"Most likely the buyers of Tamar will be funds or institutional investors -- that is where the big money is today," said Noam Pincu, an analyst at Psagot Investment House Ltd. in Tel Aviv who covers Israeli gas companies and was referring to a stake in Tamar field. "They may join together with Israeli institutions or even a foreign energy company and jointly bid."
Edison Interested
Edison, part of Electricite de France SA, is not currently considering a participation in Tamar or Leviathan, an Edison spokeswoman said by e-mail Thursday. The company is interested in investing in smaller gas fields such as Karish and Tanin if conditions to sustain such projects are put in place by the Israeli authorities.
Companies from China and India, which have strengthened trade ties with Israel, may also be interested in buying Israeli gas fields, said David Wurmser, director of Delphi Global Analysis Group in Rockville, Maryland, who consults for Israeli energy businesses.
Karish and Tanin, the smaller offshore fields, would be sold over a period of 14 months, according to the Cabinet plan. Any such sale may be complicated by a government requirement that gas from Karish and Tanin be sold locally and not exported.
"Israel has been pushing Karish and Tanin for some time and no one's shown up," Wurmser said. Israel should allow exports from both fields to make them more attractive, he said.
Natural gas supply shortages are a "chronic problem" in the Middle East, along with Latin America and Africa, the International Energy Agency said in a report in June. Demand in the Middle East is seen growing at an average annual rate of 3 percent between 2014 and 2020, while supply expands 2.2 percent, the report showed.
"Israel's energy options increased enormously with these gas discoveries," Driscoll said. "The world needs Israeli exports yesterday as they could already be helping people lead better lives."
Before it's here, it's on the Bloomberg Terminal.
LEARN MORE