Glencore Plan to 'Walk and Chew Gum' Tested as Shares Dive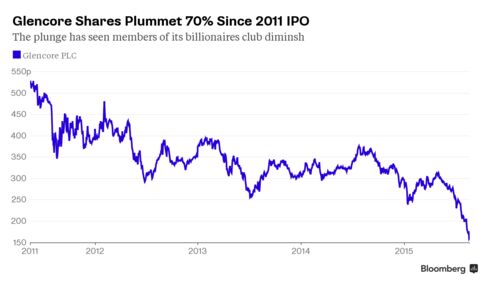 Glencore Plc's Chief Financial Officer Steven Kalmin says the $33 billion miner and commodity trader can protect its all-important credit rating without cutting the dividend, or "walk and chew gum," as he puts it.
This is what Kalmin has to contend with: a rout in commodities prices that cut profit 56 percent in the first half; a trading business earning less than expected because of a global glut in metals; and net debt that's falling, but remains almost $30 billion.
"It's tough times for Glencore and they are going to have to work hard," John Meyer, an analyst at SP Angel in London, said in an interview with Bloomberg Television. "Let's hope they don't drop the gum on the sidewalk and get stuck in it because this is all-important for Glencore."
The company spent about $2.4 billion last year on paying dividends to investors, including billionaire Chief Executive Officer Ivan Glasenberg, who owns 8.4 percent of the shares. Reducing that would allow the company to pare back debt faster, providing reassurance to credit rating firms.
Despite several measures announced on Wednesday designed to bolster its finances, the stock tumbled 9.7 percent to a record low. It rebounded 2.5 percent Thursday, paring this year's slide to 45 percent. It's the worst performer on the U.K.'s benchmark FTSE 100 index.
Trading Business
Retaining its BBB rating at Standard & Poor's, the second-lowest investment grade, is more significant for Glencore than other mining companies as the cost of operating its trading business, which relies on credit to finance commodity deals, would increase if its rating were cut.
Glencore's operating performance in the first-half "was in line with expectations, given lower copper and other commodity prices and is in line with the performance of the company's rated peers in 2015," Moody's Investors Service wrote in a report Thursday.
Glencore needs to shrink net debt almost by half to $16 billion by the end of next year, based on current commodity prices, to retain its credit rating, JPMorgan Chase & Co. analysts said last week. To achieve that goal, it may need to sacrifice its dividend next year, JPMorgan said.
"We certainly think we are in good shape to be able to walk and chew gum at the same time here, which is, pay our dividends, keep our ratings where they are," Kalmin said in a phone interview from London on Wednesday. "Our current thinking is that we can do it all."
Net Debt
Glencore cut its net debt by $1 billion in the first half to $29.6 billion. It pledged a further $2 billion reduction to $27 billion by the end of next year. It also reduced its spending estimate for next year by $1.6 billion.
"If there's still pressure in the commodities market in the second half, they might reduce or cut the dividend," Max Mihm, a portfolio manager at Union Investment, which has about 250 billion euros ($277 billion) of assets including Glencore shares. "That's one lever they still have, that they haven't pulled yet."
The cost of insuring Glencore's debt against default rose to 342.6 basis points on Wednesday, the highest since September 2012, according to data provider CMA.
There's one advantage of lower commodity prices. Glencore needs to use less debt to finance trading. That enabled it to reduce working capital by $3.2 billion in the first half.
Commodity Inventory
It's also aiming to keep its ratio of net debt to earnings before interest, tax, depreciation and amortization at below three to help it retain the rating. Using current commodity prices the ratio is estimated at 3.4 times, Morgan Stanley analysts led by Menno Sanderse said in an Aug. 4 note.
Another option Glencore has to help reduce its debt pile is selling inventories of commodities it holds. It cut its so-called readily marketable inventories by $1.5 billion to $17.7 billion in the first half. While inventories are held with credit, ratings agencies assume the positions are akin to cash.
"The company is at pains to emphasize that the credit rating is sacrosanct, and they will do what they need to do to maintain it," Alon Olsha, an analyst at Macquarie Group Ltd. in London, said by phone. "The dividend is very much the last option, but it's on the table."
Confusion in the market around its debt position was the likely reason for the share price collapse on Wednesday, Glasenberg said on a call with reporters from London.
"People look at it, they don't understand that we are part trading company, part mining company," he said. "We've proved that we can manage our debt. We've always said we can manage it. It doesn't rule us. We rule it."
Peter Grauer, the chairman of Bloomberg LP, the parent of Bloomberg News, is a senior independent non-executive director at Glencore.
Before it's here, it's on the Bloomberg Terminal.
LEARN MORE