Poland Heads for Referendum on Reversing Retirement Age Rise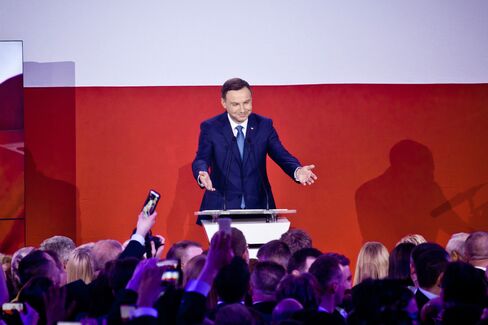 Poland's ruling party said it won't block President Andrzej Duda's proposal to hold a referendum on Oct. 25 to reverse an increase in the retirement age.
The ballot is proposed to be conducted on the day Poland holds a general election, which opinion polls show will be won by the president's allies in the Law & Justice opposition party. Prime Minister Ewa Kopacz said on Friday that the Senate, where her group has a majority, won't reject Duda's plan and asked him to widen the list of questions. She doesn't support lower retirement ages.
The Civic Platform-led government increased the retirement age to 67 years in 2012 to ward off a looming budget crunch as Poland copes with an ageing population. Law & Justice has made reversing the law, which according to business lobby group Pracodawcy PR would cost the budget 71.4 billion zloty ($19 billion) through 2020, a cornerstone of its election campaign. The zloty and Warsaw-listed stocks dropped on Friday in line with most other emerging-market assets amid risks over China's economy.
The vote "will let us know the will of Poles and will show the direction of changes society expects," Duda said in a televised address late on Thursday. Holding it on the same day as the general election "will be significantly cheaper."
Retirement, School
Law & Justice seeks to lower the retirement age by seven years for women and by two years for men. Duda also proposed asking Poles whether they want to reverse the government's decision to reduce the school age to six from seven as well as whether the country should ban the sale of state-owned forests.
"Clearly, a higher retirement age would be better for Polish public finances, so any final decision on lowering it would negatively impact the long-term assessment of economic fundamentals," Piotr Kalisz, an economist at Citigroup Inc.'s Warsaw-based unit, said on Thursday.
Duda's proposal represents "only" Law & Justice's political agenda, Kopacz said on Friday at a press conference. Lowering the retirement age would have "concrete financial consequences," she said in an interview later with TVN24 television.
"Some of the questions would lead to a second Greece," while the opposition don't want to accept responsibility for the costs of its proposals, Kopacz said.
'Referendum Spiral'
The premier said citizens should also be asked about public financing of churches, civil partnerships and military conscription.
Poland has held four nationwide referendums since the re-introduction of democracy in 1989, the last on whether to join the European Union in 2003, which it did a year later. The nation also faces a referendum on the country's voting system on Sept. 6, which was called by Duda's predecessor Bronislaw Komorowski two weeks before he lost his re-election bid in May.
"We fell into a referendum spiral, which harms the country's parliamentary democracy by replacing it with a popularity contest," Andrzej Rychard, a sociologist at the Polish Academy of Sciences in Warsaw, said on Friday. "This doesn't change much in terms of election dynamics."
Before it's here, it's on the Bloomberg Terminal.
LEARN MORE