De Blasio May Rid Times Square of Plaza to Thwart Panhandlers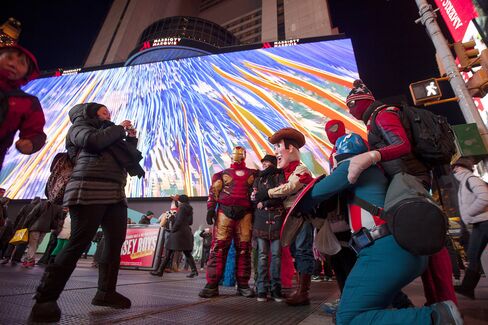 Times Square's pedestrian plaza may be removed to thwart bare-breasted women and people dressed as cartoon characters who demand money aggressively, Mayor Bill de Blasio said.
De Blasio said he'd "take a fresh look" at reopening to automobile traffic portions of Broadway and Seventh Avenue that are now set aside for pedestrians.
"That's a very big endeavor, and like every other option comes with pros and cons," de Blasio said at a news briefing Thursday in Queens. "We're going to look at what those pros and cons would be. You could argue that those plazas have had some very positive impacts. You could also argue they come with a lot of problems."
The plaza, a signature project of former Mayor Michael Bloomberg, was completed in 2014. Granite pavement replaced a once-congested five-block stretch of Broadway between West 42nd Street and West 47th Street as part of a project that cost about $55 million. Bloomberg is the founder and majority owner of Bloomberg LP, the parent company of Bloomberg News.
Police Commissioner Bill Bratton suggested eliminating the pedestrian plaza, saying he'd "prefer to just dig the whole damn thing up" to reduce begging.
City Comptroller Scott Stringer opposed a change, calling the proposed shut-down "a serious overreaction." The plaza represents a "positive change to the urban landscape, giving Times Square much-needed open space and improving pedestrian safety."
City Council Speaker Melissa Mark-Viverito "believes in and supports keeping pedestrian plazas," said Eric Koch, her spokesman.
Before it's here, it's on the Bloomberg Terminal.
LEARN MORE