Bulls Walk Away From U.S. Options Market as Put-Call Ratio Jumps
Bearish sentiment toward stocks is rapidly worsening in the U.S. options market.
Based on the number of puts trading compared with calls on single stocks, pessimism is higher now than any time since 2012, data compiled by Bloomberg and the Chicago Board Options Exchange show. It's mostly the result of a decrease in bullish calls, whose volume has declined 36 percent since January.
Investor skepticism is growing as the Standard & Poor's 500 Index meanders in its tightest range in nine decades. Recently, the stock market's resilience has been tested by signs of a global slowdown as the Federal Reserve moves closer to raising interest rates.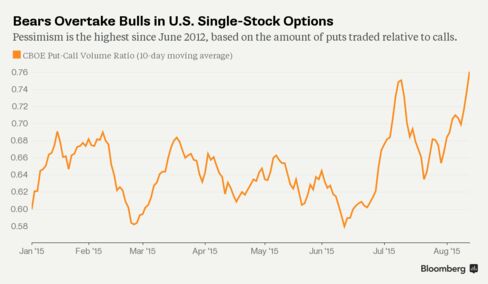 "Upside speculation has really fallen off a cliff," said Tim Biggam, lead options strategist at Delta Derivatives. "With the Fed making a decision in September and issues almost every day with China and commodities, a lot of people are getting nervous. You're seeing put volume picking up and call volume going way down."
In August, speculators have neglected calls, which give holders the right to buy shares at a certain price. They've instead focused more on puts, which convey the right to sell shares at a specific level.
Calls Neglected
About 0.75 bearish options have changed hands for every bullish one on average in the last 10 trading days, according to a CBOE index tracking daily volume through Aug. 18. The ratio reached 0.76 last week, its highest reading since June 2012.
Equity trading this month has been dominated by signs that China's economic slowdown is deepening, which culminated in a surprise devaluation of the yuan last week. In addition, investors are anticipating the Fed will move toward higher rates this year, with futures markets predicting a 36 percent chance that will happen at next month's meeting.
While the broader stock market has held up, hovering 2.4 percent from a record high, signs of trader anxiety are seeping in. On Wednesday, the S&P 500 swung 1.2 percentage points as continuing shock from China's devaluation weighed on markets, overshadowing Fed minutes that showed policy makers judged conditions for higher rates haven't been met yet.
"Investors are refocusing on the expectation that we are entering a rising interest-rate environment, with the first Fed hike potentially coming at the September meeting," said Alex Kosoglyadov, vice president of equity derivatives at BMO Capital Markets Corp. in New York. "This has some investors looking for protection."
The S&P 500 dropped 0.7 percent to 2,064.88 at 9:39 a.m. in New York, heading for a third straight day of losses.
About half of the S&P 500's members are trading at least 10 percent below their 52-week highs. The energy and raw-materials groups in the benchmark equity gauge are in corrections, hurt by a plunge in commodity prices.
Correction Fears
Traders are spending the most on puts since October, according to Sundial Capital Research Inc.'s Jason Goepfert. Then, the S&P 500 plunged 9.8 percent, spurring a rush for protection as the broader market came the closest to entering correction territory since 2011.
"In the past two years, the only time we've seen more put buying among these traders was mid-October," Goepfert wrote in an August 17 note. "Perhaps these traders fear a greater correction coming down the pike."
Before it's here, it's on the Bloomberg Terminal.
LEARN MORE