Brazilian Senate Approves Bill Increasing Taxes for Companies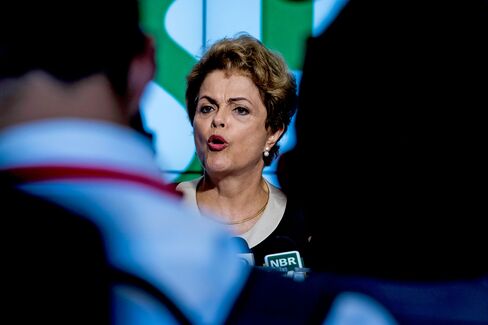 Brazil's Senate passed a bill that would raise taxes on companies in the latest test for President Dilma Rousseff's embattled government.
The bill passed in a 45-27 vote late Wednesday. The measures will boost revenue by 10 billion reais ($2.9 billion) annually when taking into account changes made when the bill passed the lower chamber, according to the bill's sponsor, Leonardo Picciani.
The passage comes as Rousseff works to rebuild support in Congress in the face of record-low popularity ratings, a spreading corruption scandal and a looming recession. The tax increase marks a key element in Finance Minister Joaquim Levy's campaign to fortify fiscal accounts and avoid a sovereign downgrade. Senator Eunicio Oliveira, a leader from the largest allied party and responsible for the bill in the Senate, focused on looking ahead.
"Brazilian society needs measures to protect jobs and increase the productivity," Oliveira said after the bill's passage. "We have to discuss measures to revive the economy to turn this negative page of fiscal-austerity."
Rousseff in the past week hosted meetings with members of her ruling coalition from the lower house and the Senate in an effort to develop a "positive agenda" that would counteract the flow of negative news and blunt the impact of Sunday's protests, which drew more than half a million Brazilians into the streets, with many calling for a change of government.
Before it's here, it's on the Bloomberg Terminal.
LEARN MORE