Banks' Shackled Balance Sheets Make Them Bond Market's Darlings
Bank bonds have returned five times more than corporate debt

Regulations mean bank bonds are now like `utilities'
Boring is proving to be profitable for investors who bought the debt of Citigroup Inc., Goldman Sachs Group Inc. and other Wall Street banks. Gains on bonds issued by these firms are exceeding the paltry gains on all other corporate bonds.
While regulations and more than seven years of near-zero interest rates have crimped the ability of financial firms to embark on shareholder friendly activities, such as dividends, stock buybacks and takeovers, it has made their debt one of the few bright spots in the bond market.
Bank bonds have gained about 1.38 percent this year, which is five times more than the entire U.S. corporate bond market. Their stocks have lost 1.1 percent in the same time.
"They're kind of like financial utilities," said Jerome Conner, who helps oversee $52.9 billion as a senior investment analyst at Federated Investors Inc. "They can't do a whole lot in terms of shareholder-friendly activity. They're not involved in a lot of M&A activity. All of their capital return plans have to be approved."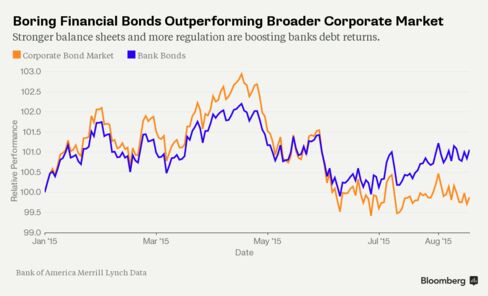 Regulations following the financial crisis have forced them to bolster their balance sheets and impose limitations on stock buyback plans. Leverage at the six largest U.S. banks shrank by almost half to 10.8 times at the end of last year from 2007, according to data compiled by Bloomberg.
Gains on the Bank of America Lynch U.S. Banking Index exceed the 0.08 percent advance in investment grade debt and 0.18 percent gain in junk bonds.
"Banks haven't been able to grow their margins in the traditional way, which can only go on so long if they want to grow. But for now they are much stronger and more capable of weathering the storm," said Jody Lurie, a corporate credit analyst at Janney Montgomery Scott LLC in Philadelphia, which manages $61 billion in assets.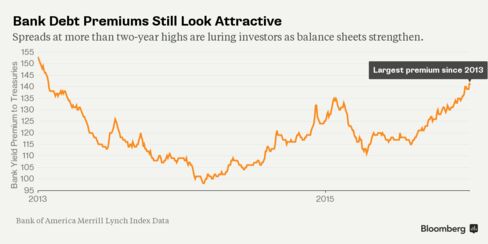 Investors who buy bank bonds are earning twice the average premium they earned on financial securities during the five years leading up to 2007, according to Bank of America Merrill Lynch indexes. The extra yield above government bonds has risen to 1.41 percentage points this year, the most since 2013.
"Spreads are wider than before the financial crisis when banks were much riskier," said Scott Minerd, who oversees $240 billion as the global chief investment officer at New York-based Guggenheim Partners LLC. Now "banks are much safer as the regulatory environment has become much more restrictive."
Before it's here, it's on the Bloomberg Terminal.
LEARN MORE