World's Biggest Wealth Fund Tackles New Era as Cash Flows Dry Up
The spigots are being turned off for the world's biggest wealth fund.
With crude below $50, the $870 billion fund has seen a precipitous drop in cash injections from Norway's government. It received just 12 billion kroner ($1.4 billion) in the second quarter and 5 billion kroner in the first three months of 2015, compared with a quarterly average of 60 billion kroner over the past 10 years.
The sudden slowdown creates new risks for Norway's fund, which since its inception in 1998 has relied on a steady cash flow to seek out new markets and strategies to increase returns. A retrenchment could have a broad impact on investors across the globe, since the fund owns about 2.4 percent of European stocks and last year emerged as the second-largest foreign buyer of U.S. real estate.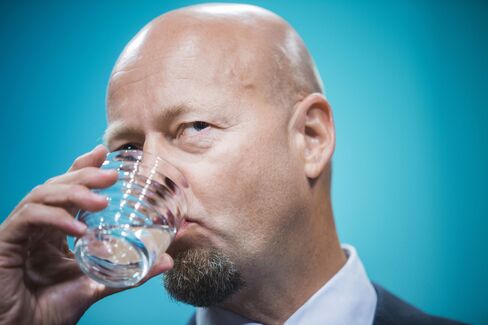 "We still have a net positive inflow, although it's very small these days," Yngve Slyngstad, head of the fund, said in an interview in Oslo on Wednesday. While it won't immediately change its strategy, the fund won't have "the same amount of cash to reinvest," he said.
The fund has typically used new cash to make large changes in its portfolio, such as when it went into real estate or increased its stake in emerging markets at the expense of Europe. The fund is dealing with smaller capital injections as it targets adding infrastructure to its portfolio of approved asset classes. It also wants to raise its allocation to real estate.
Strategy Shifts
The fund is also contending with a government that's taking a larger share of the nation's oil wealth to pad its budget as the oil slowdown has pushed up unemployment. The government in May predicted it would deposit 42 billion kroner into the fund for all of this year and estimated a 27 percent decline in oil income to 252 billion kroner. Oil was almost $20 higher back then.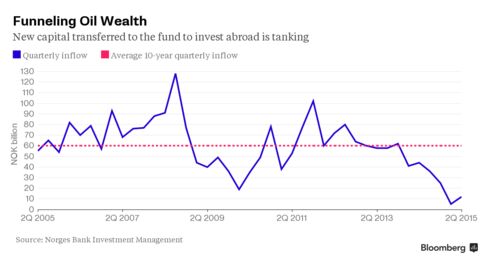 According to Slyngstad, the decline in inflows has already hampered the fund's shift away from Europe. The government in 2012 approved a plan to reduce holdings in Europe to 41 percent from 54 percent of the total portfolio as the region's debt crisis raged.
"The big picture is that we will see a bigger relative risk and somewhat larger implementation costs during strategy changes now," Slyngstad said.
The fund posted a loss of 73 billion kroner in the second quarter, the first decline in three years, dragged down by falling global bond and stock markets.
Before it's here, it's on the Bloomberg Terminal.
LEARN MORE