What Netflix, Amazon, and KKR Tell Us About the Dismal State of Family Leave
Your ability to be both a parent and an employee largely depends on the benevolence of the company you work for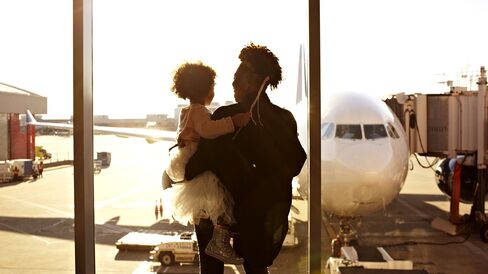 In what appears to be an escalating benefits arms-race, a handful of companies have rushed to announce more generous family-leave policies for their employees in recent days. It's a response, in part, to a combination of public shaming and hiring pressure. The shame comes from the fact that the U.S. is last in the developed world in paid family leave available to new mothers and fathers. The pressure comes particularly from female workers, who tend to quit in alarming numbers once they become mothers and find that Corporate America's intractable culture to be untenable. Working fathers also want greater flexibility so they can be involved with their families.
Some companies that have taken steps to modernize their policies to reflect the way the workplace actually is, rather than how it used to be, should be commended. But a handful of improvements at individual companies only points at a larger problem: The ability to be both a parent and an employee is largely dependent on the benevolence of whichever private corporation one happens to work for. Until that patchwork approach to the problem changes, working parents at all levels of the economic spectrum will continue to be in a bind. The persistent lack of women at the upper levels of the business world won't get much better, either.
Netflix made the most groundbreaking move, announcing on Aug. 4 that it would offer unlimited leave to most employees during the first year after the birth or adoption of a child, at full pay, followed by flexible options once they return to work. Microsoft chimed in the next day, increasing paid time off for new parents to 12 weeks, from eight. Not to be outdone, the software company Adobe said it was more than doubling the paid time off it offers new mothers—to 26 weeks, from 12.
The same week, private-equity firm KKR offered to pay for employees to bring nannies on business trips so they could travel with their babies. It is unclear whether mothers, let alone fathers, will feel that they can take advantage of these remarkable new options at companies that are known for workaholic culture. But it's a start.
The more revealing case is that of Amazon. In a big, bruising report in the New York Times, the company was depicted as a harsh place at which employees are encouraged to tattle on one another for leaving the office early, even when they're doing so to care for newborns or to seek cancer treatment. The company disputes the report. But the controversy illustrates the point better than any policy paper could. In the absence of a robust national maternity leave policy, every employee in the U.S. is at the mercy of the whims of the leaders of a company. If you find yourself working for someone who thinks "purposeful Darwinism" sounds like a great idea, too bad for you.
Before it's here, it's on the Bloomberg Terminal.
LEARN MORE