Vestas Wind Beats Profit Forecast as Orders Surge to Record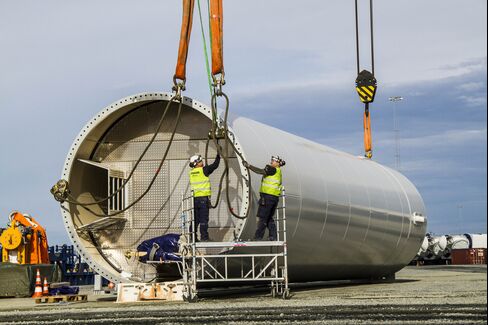 Vestas Wind Systems A/S posted a seventh straight quarterly profit, beating analysts' expectations as orders surged to a record in the first half of the year.
The world's biggest wind turbine maker had a net income of 125 million euros ($138 million) in the three months through June 30, the Aarhus, Denmark-based manufacturer said Wednesday in a statement. That's up from 94 million euros in the same quarter last year and beats the 98 million-euro average estimate of 10 analysts surveyed by Bloomberg.
Shares in wind turbine makers have jumped this year as demand increases from the U.S. and Brazil to India and China. Global wind power installations will jump by a quarter in 2015 to a record 60 gigawatts, Bloomberg New Energy Finance forecasts.
"It's a demand story for now, but it's also a question of all the efficiency measures that have been put in place over the past few years," Jacob Pedersen, an analyst at Sydbank A/S said in a phone interview from Aabenraa, Denmark, before Vestas published results.
Shares of Vestas dipped after the results amid "slight disappointment" that managers didn't raise guidance for the year, Nordea Bank AB said. Vestas has risen 60 percent this year and is among the best performers in the Stoxx Europe 600 index. It closed up 1 kroner at 386.5 kroner in Copenhagen trading.
Guidance Maintained
The manufacturer raised its forecasts in May and says it expects revenue of at least 7.5 billion euros in 2015, an operating margin before special items of at least 8.5 percent, and free cash flow of at least 600 million euros.
It's possible the company will raise revenue and margin guidance again in November when it releases third-quarter earnings, said Pedersen at Sydbank.
Rival wind turbine makers including Gamesa Corp. Tecnologica SA and Nordex SE also have surged this year as the industry recovered from a slump.
Gamesa raised its guidance in June as the company said it's targeting a doubling of profits by 2017. Nordex Chief Executive Officer Lars Bondo Krogsgaard said on July 30 he expects the company to "substantially exceed the forecasts" given at the beginning of the year, after the manufacturer ramped up turbine production to a record in the first half.
Record Orders
Orders at Vestas totaled 3,018 megawatts in the second quarter, just short of the quarterly record of 3,186 megawatts from the last three months of 2011. The first-half total of 4,768 megawatts exceeded the 4,289-megawatt total for the first half of 2010.
"With a combined order backlog of 16.9 billion euros, we are well-positioned for the future," said Chief Executive Officer Anders Runevad. "The profitable growth strategy is firmly on track."
Second-quarter sales rose to 1.75 billion euros from 1.34 billion euros in the same quarter last year, beating the average analyst forecast of 1.63 billion euros.
Free cash flow rose to 183 million euros from a deficit of 21 million. Earnings before interest, taxes and special items rose to 145 million euros from 104 million euros a year ago. The operating margin widened to 8.3 percent from 7.8 percent.
The run of quarterly profits followed a 9-quarter streak of losses that prompted the company to shed almost a third of its workers and close a dozen factories.
Before it's here, it's on the Bloomberg Terminal.
LEARN MORE