Venezuela's Dilemma: Gold Slump Collides With Oil Crash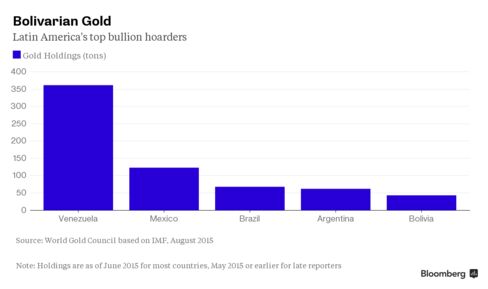 Gold's plunge to five-year lows has diminished the value of Venezuela's bullion holdings by about $7 billion just as the oil-dependent government most needs cash.
The nation with larger oil reserves than Saudi Arabia also has the biggest gold holdings in Latin America.
With its crude revenue nose-diving, Venezuela cut its bullion hoard by 6.6 metric tons in the first half of the year, according to calculations based on World Gold Council data. While that turned out to be lucrative as prices kept falling, the government may have to keep selling to pay its bills, Citigroup Inc. analysts wrote in a report Tuesday.
Calls to Venezuela's central bank and the media office at the finance ministry weren't answered.
Venezuela's gold stash is worth about $13 billion, compared with about $20 billion four years ago, when prices began to unravel. If President Nicolas Maduro can hold out until next year, the reserves may be worth more. Analysts surveyed by Bloomberg expect prices to rebound to $1,192 an ounce by the second quarter of 2016 from about $1,130 now.
Gold retreated to a five-year low in July as the dollar rallied on prospects of higher U.S. interest rates. Sales of bullion by governments may add to price pressure even as other central banks, including China's, expand holdings.
To make things more complicated for Venezuela, most of its gold is held at an underground vault of the central bank in downtown Caracas after late President Hugo Chavez ordered in 2011 to repatriate the bullion held in overseas banks, complicating the logistics of any transaction.
With about 1.1 percent of all the world's gold holdings, Venezuela has more reserves in the precious metal than countries including the U.K. and Spain, the WGC data shows.
Before it's here, it's on the Bloomberg Terminal.
LEARN MORE