U.K., France Set Up Calais Police Command Over Migrants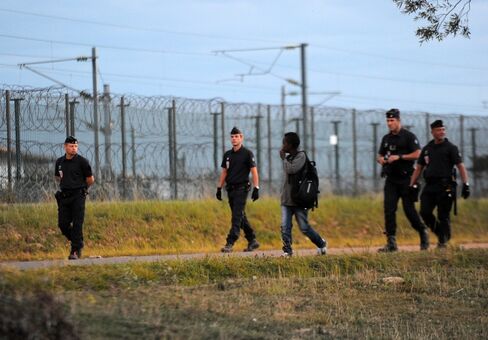 The U.K. and France will set up a joint command center with police and border officials from both countries in a bid to stop illegal migrants trying to enter Britain through the Channel Tunnel.
The center will be located in Calais, at the French end of the tunnel. Home Secretary Theresa May and French Interior Minister Bernard Cazeneuve signed a declaration establishing the joint command at a meeting in Calais on Thursday.
"We recognize the special circumstances of Calais as the closest port to the U.K. and have today agreed that the U.K. will provide France with additional expertise, capacity and additional funding in support," May said at a news conference after signing the agreement. One focus for the new command would be to "relentlessly pursue and disrupt" organized criminals who facilitate the smuggling of migrants through intelligence-sharing efforts, she said.
The would-be migrants have disrupted services this summer through the 50-kilometer (30-mile) sub-sea rail tunnel, operated by Groupe Eurotunnel SE. New fences and security measures have been put in place, and extra U.K. border guards have been sent to Calais to prevent migrants boarding trucks and trains.
The two governments also agreed to help Eurotunnel employ extra security guards, the U.K. Home Office said in a statement. More teams and sniffer dogs will be made available to search freight around the clock, while there'll also be extra floodlighting, closed-circuit television and infrared detection equipment.
"A solution can only be European and international," Cazeneuve told reporters. "We can't just have a solution for the Channel so we will work with others in the Mediterranean area and with Germany" to fight illegal migration, he said.
Before it's here, it's on the Bloomberg Terminal.
LEARN MORE