Thai Shrine at Center of Bombing Opens as Hunt Continues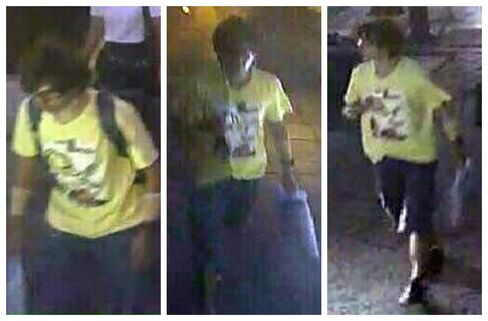 The smell of incense filled the air around the Thai capital's Erawan shrine as it re-opened less than 48 hours after a bomb attack that killed at least 20 people, many of them foreigners, in the heart of Bangkok's shopping district.
A trickle of devotees, tourists and family members of the victims accompanied by Buddhist monks carried flowers and joss sticks into the Hindu shrine. Fresh cement filled the crater along the now tangled fence of the shrine, where the bomb was believed to have been planted during evening rush hour Monday.
"For me, coming here is not letting them win," Kate Brady, a tourist from Devon, England, said Wednesday after lighting incense in front of the damaged golden face of Lord Brahma. "Whoever they are," her husband Mike added.
Thai authorities are hunting for suspects captured on security camera footage in connection with the powerful blast, though the motivation for the attack remains unclear. The government said the central location of the bombing near shopping malls, hotels and the popular shrine indicated the perpetrators wanted to cause maximum carnage. A further 123 people were wounded.
"We will look at all information," Thai police chief Somyot Poompanmoung said Wednesday. "We also have not ruled out any motives for this bomb attack. We will investigate all details. We are cooperating with all countries."
The attack -- along with a second blast a day later that caused no injuries but sent water into the air at a busy Bangkok boat pier -- has raised the specter of renewed violence in a country that has seen years of political unrest, culminating in a May 2014 coup that deposed a government backed by former Prime Minister Thaksin Shinawatra.
Suspected Bomber
Thai police shared photos taken from security footage of one suspect in the blast. The person -- who appears to be a man with shaggy hair and wearing a yellow T-shirt -- was captured on video entering the shrine with a backpack, taking it off and slowly walking away. Police released a sketch and issued an arrest warrant for the unnamed man, noting he was a foreigner. They also said two other men seen in footage were suspects, according to Reuters.
Beyond domestic political troubles, speculation has also pointed at the possibility the attack was carried out by foreign terrorists or Muslim insurgents active in Thailand's far southern provinces near the border with Malaysia, where more than 6,400 people have been killed over the past decade.
The blast adds to concerns about slowing economic growth in Thailand in part due to the political discord that has worsened over the past decade. Data released on Monday showed the economy slowed in the second quarter on weak local demand and exports, with the outlook clouded further by drought and the devaluation of China's currency.
Tourism Threatened
One of the only economic bright spots has been tourism, which the government expected would bring in $51 billion in revenue this year. Thailand attracted about 25 million tourists in 2014, roughly a quarter of all visitors to Southeast Asia, according to the World Tourism Organization.
The Ratchaprasong intersection where the attack occurred has been a site for political protests in recent years, including demonstrations in 2010 by supporters of Thaksin that led to a deadly military crackdown and saw a major shopping mall set ablaze. It was also among the places attacked in a series of bombings on New Year's Eve in 2006 that killed three people and wounded dozens.
The dead in Monday's attack included people from China, Hong Kong, Singapore, Indonesia and Malaysia. Of the 20 deaths, six were Thai, 12 were foreigners and the nationalities of two was unknown, according to Bangkok Emergency Medical Service.
A further 123 were wounded, including 55 foreigners and 68 Thais, 68 of whom are still being treated in hospitals, according to the Ministry of Public Health.
Stocks Recover
The baht weakened 0.1 percent against the dollar on Wednesday, while the benchmark SET Index of stocks rose 0.5 percent, recovering some of Tuesday's losses. Minor International Pcl, whose 126 hotels include the St. Regis and Anantara Siam in Bangkok, rose 3.4 percent after Chief Executive Officer Dillip Rajakarier said a decline in tourist arrivals may be "very short term."
Office buildings close to the U.S. and Japanese embassies in the capital erected security barriers and began checking cars for explosives. Some companies sent employees home early. Hundreds of schools that were ordered to close the day after the blast reopened Wednesday.
Thai junta leader Prayuth Chan-Ocha said Monday's incident was more serious than past bombings.
"The events before were just to cause a scene," he said Tuesday. "But this time they aimed to take lives."
Before it's here, it's on the Bloomberg Terminal.
LEARN MORE