Thai Authorities Hunt for Bombing Suspects Seen on Footage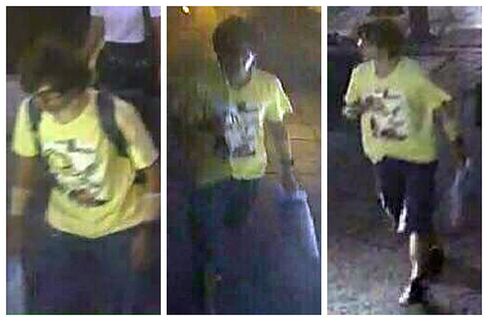 Thai authorities are hunting for suspects captured on security camera footage in connection with a powerful blast that killed at least 20 people in Bangkok's central shopping district, junta leader Prayuth Chan-Ocha said.
The site of Monday's evening rush hour blast -- near the popular Erawan Hindu shrine in an area surrounded by shopping malls and hotels -- showed the perpetrators aimed to hurt foreigners, Army Chief Udomdej Sitabutr said. A second blast on Tuesday sent water into the air at a busy Bangkok boat pier, though no injuries were reported.
The dead in Monday's attack included people from China, Hong Kong, Singapore and Malaysia. Of the 20 deaths, seven were Thai, seven were foreigners and the nationalities of six was unknown, according to the Ministry of Public Health.
A further 123 were wounded, including 55 foreigners and 68 Thais, 68 of whom are still being treated in hospital, according to the ministry.
"We haven't concluded yet who did this," Prayuth told reporters Tuesday. "There are two possibilities between politics and international issues. I haven't ruled out anything. But there are already conflicts in politics. Who lit the fuse, can you answer me?"
The attack raises the specter of renewed violence in a country that has seen years of political unrest, culminating in a May 2014 coup that deposed a government backed by former Prime Minister Thaksin Shinawatra. Parties linked to Thaksin have won the past five elections, leading to a backlash among opponents who saw him as a threat to the monarchy, which is protected from criticism by strict laws.
Suspect Photos
Thai police shared photos taken from security footage of one suspect in the blast. The person -- who appears to be a man with shaggy hair and wearing a yellow T-shirt -- was captured on video entering the shrine with a backpack, taking it off and slowly walking away.
The baht fell 0.24 percent on Wednesday, while the benchmark SET Index declined 0.l percent.
Office buildings close to the U.S. and Japanese embassies in Bangkok erected security barriers and began checking cars for explosives. Some companies sent employees home early. Hundreds of schools that were ordered to close the day after the blast will reopen Wednesday.
Economic Concerns
The blast adds to concerns about slowing economic growth in Thailand in part due to the political discord that has worsened over the past decade. Data released on Monday showed the economy slowed in the second quarter on weak local demand and exports, with the outlook clouded further by drought and the devaluation of China's currency.
One of the only economic bright spots has been tourism, which the government expected to bring in $51 billion in revenue this year. Thailand attracted about 25 million tourists in 2014, roughly a quarter of all visitors to Southeast Asia, according to the World Tourism Organization.
The U.S. Embassy in Bangkok warned its citizens to avoid the area, while the Hong Kong government urged a delay to non-essential travel to Bangkok.
The Ratchaprasong intersection has been a site for political protests in recent years, including demonstrations in 2010 by supporters of Thaksin that led to a deadly military crackdown and saw a major shopping mall set ablaze. It was also among the places attacked in a series of bombings on New Year's Eve in 2006 that killed three people and wounded dozens.
Prayuth said Monday's incident was more serious than past bombings in Thailand's political conflict.
"The events before were just to cause a scene," he said. "But this time they aimed to take lives."
Before it's here, it's on the Bloomberg Terminal.
LEARN MORE