Talk of Weaning Off Oil Is Cheap as Gulf Stocks Mirror Crude
Correlation between GCC 200 Index and Brent at 5-year high

Lack of diversification away from energy is hurting stocks
Pledges by Gulf states to diversify their economies away from a dependence on oil are winning few believers in the stock market.
The correlation between the price of Brent and the biggest equities in the six-nation Gulf Cooperation Council that make up the Bloomberg GCC 200 Index has increased to the strongest in five years and is almost as strong as any time since 2006. By contrast, the oil correlation for Russia's benchmark Micex Index has almost disappeared, even though the nation produces almost as much oil as Saudi Arabia.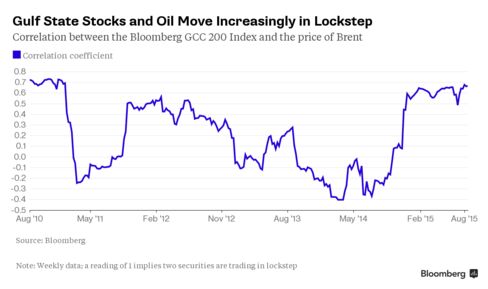 Investors in the GCC's $1 trillion equity markets are concerned that the drop of more than 50 percent in oil prices will force governments to cut spending, a key driver of economic growth. Officials have pledged to shield their economies from the swings in crude prices by boosting investment in non-oil industries. While the United Arab Emirates has reduced its reliance on energy, Saudi Arabia, OPEC's biggest exporter, still depends on oil for almost all its revenue.
"At extreme oil price movements, the correlation spikes because that's when the fundamental questions get asked, like whether governments will change their spending policies," Yazan Abdeen, who manages $280 million of Middle East and North African assets at Jeddah, Saudi Arabia-based Sedco Capital, said by telephone. "I'd get worried if the drop is sustained and the dollar weakens, but we're not there yet."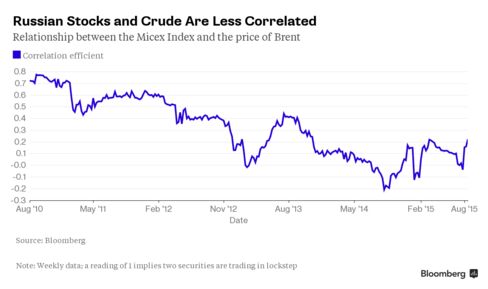 The GCC, most of which peg their currencies to the U.S. dollar, is home to almost 30 percent of the world's proven oil reserves.
Brent crude, the benchmark for half of the world's oil, retreated 1.3 percent to $46.53 per barrel at 10:18 a.m. in London. It may sink further as Saudi Arabia, the biggest member of the Organization of Oil Exporting Countries continues to pump at record levels, while U.S. supplies rise and Iran prepares to ramp up output ahead of the expected lifting of economic sanctions.
Stocks in Saudi Arabia were poised to enter a bear market on Thursday after declining eight straight days. Equity markets across the region also dropped.
The kingdom's foreign reserves have already dropped to the lowest since March 2013 after the government drew $73 billion in the 10 months to June. It has started selling domestic debt in an effort to plug its budget deficit and maintain spending. Meanwhile, bets on the country's first currency devaluation in three decades are soaring.
"Selling now is more logical to the herd, but it's also when investors with cooler heads can take up strategic positions," Abdeen said.
Before it's here, it's on the Bloomberg Terminal.
LEARN MORE