Subway Ex-Pitchman Fogle Ends Fall With Child-Porn Plea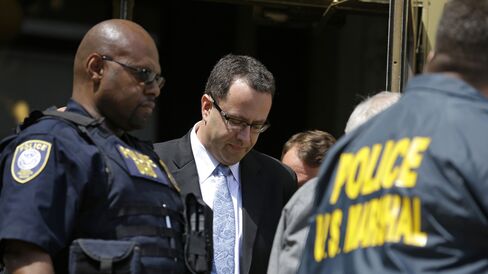 Subway Restaurants' former spokesman Jared Fogle agreed to plead guilty to federal child-pornography charges six weeks after his Indiana home was raided by the FBI, completing a rapid fall from one-time sandwich-shop icon.
Wearing a black suit, Fogle answered only yes and no to questions posed by U.S. Magistrate Judge Mark Dinsmore in Indianapolis on Wednesday. He agreed to a deal with prosecutors, admitting to two counts including distributing and receiving visual depictions of minors.
Released with electronic monitoring, Fogle faces as long as 30 years in prison and a $250,000 fine at sentencing. Prosecutors and Fogle's lawyer agreed to ask the judge for a sentence of at least five years and less than 12 years and seven months.
"He preyed on minor victims who did not have the ability to protect themselves," Indianapolis U.S. Attorney Joshua Minkler said.
Fogle shot his first Subway commercial in 2000 and became a prominent spokesman for the chain. His ads highlighted a personal story of losing weight on a diet primarily consisting of the company's sandwiches.
In 2006, he started the Jared Foundation, which raised money to fight the spread of childhood obesity.
Last month, the Federal Bureau of Investigation and Indiana State Police raided Fogle's home and removed electronics following the arrest in May of the Jared Foundation's former executive director, Russell Taylor.
Twelve Girls
Fogle was charged with accepting video and pictures of 12 minor girls engaged in sexual acts that were allegedly produced by Taylor using hidden cameras. Fogle had met many of the girls socially in the Indianapolis area, according to prosecutors.
The U.S. also said Taylor gave Fogle child pornography from overseas involving victims as young as 6 years old.
Fogle has also agreed to plead guilty to crossing state lines to engage in sexual acts with minors, having allegedly traveled to New York to meet two girls in Manhattan hotels.
Steven D. DeBrota, senior litigation counsel with the U.S. attorney's office, said at a press conference that the $100,000 payment Fogle must make to each of the 14 victims will go immediately to four who already are adults "in dependent situations, and need help to get their lives back together."
DeBrota said Fogle didn't use his celebrity status to impress or intimidate the girls, "because most of them didn't know who he was."
However, Fogle "used the wealth he gained from his celebrity status and other resources it gave him access to," such as his ability to travel and stay in plush hotels, to reach the victims.
Cut Ties
Subway cut ties with Fogle after the raid of his home.
"We have already ended our relationship with Jared and have no further comment," Subway said Wednesday in a statement. The company called Fogle's actions "inexcusable" in a subsequent comment posted on Twitter.
Fogle's lawyer, Jeremy Margolis, said his client will pay the restitution to his victims as part of the plea, and seek psychiatric treatment.
"While Jared fully recognizes that such monetary contribution will not undo the harm he has caused, he is hopeful it will assist these individuals as they try to move forward with their lives," Margolis said in an e-mailed statement.
The case is U.S. v. Fogle, 15-cr-00159, U.S. District Court, Southern District of Indiana (Indianapolis).
Before it's here, it's on the Bloomberg Terminal.
LEARN MORE