South Sudan Accuses Rebels of Attacks After Peace Deal Delay
South Sudan's army said rebels attacked military sites in two states after President Salva Kiir refused to sign a deal seeking to end the country's 20-month civil war.
Insurgents struck bases in Upper Nile and Eastern Equatoria states over the past two days, leaving at least four government troops dead and five wounded, army spokesman Philip Aguer said on Wednesday by phone from the capital, Juba. Rebel spokesman Mabior Garang said the fighters were defending themselves when attacked and denied any attempt at an advance.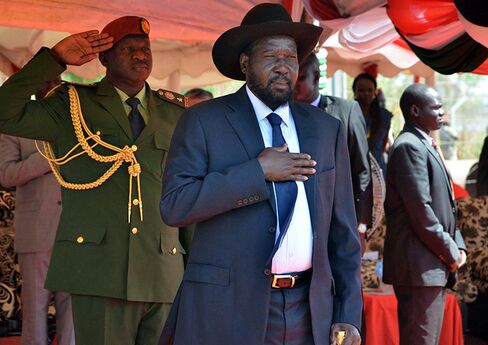 Kiir declined to sign an agreement with rebel leader Riek Machar in Ethiopia by an Aug. 17 deadline, with the government citing differences in opinion over the structure of the army, demilitarization and governance in oil-rich Upper Nile.
Mediators, seeking to end a war that's left tens of thousands of people dead since December 2013, allowed Kiir 15 more days to hold consultations. Garang said the government is using that extra time to try and eliminate the rebels.
South Sudan, the world's newest nation, has sub-Saharan Africa's third-biggest oil reserves after Nigeria and Angola, according to BP Plc data. Violence has cut crude output by at least a third to about 165,000 barrels per day, the Petroleum Ministry said in May.
In a monthly lunch with United Nations Secretary-General Ban Ki-moon on Tuesday, Security Council members agreed on the need for an arms embargo if Kiir fails to sign the agreement by the 15-day extension, according to an UN diplomat who asked not to be identified, citing the sensitivity of the matter. The council is "enormously frustrated" that the warring sides are causing such hardship for their own people, the diplomat said.
More than 2 million people have been displaced by the conflict and 4.6 million, almost half of the population, are facing severe food insecurity, according to the UN.
Before it's here, it's on the Bloomberg Terminal.
LEARN MORE