South Africa President's Home Makeover Dispute Goes to Court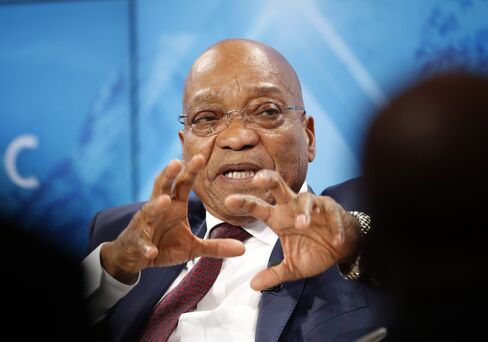 South African opposition parties have turned to the courts in a bid to force President Jacob Zuma to refund taxpayer money spent on a swimming pool, a cattle enclosure and an amphitheater at his private home.
The Democratic Alliance filed a lawsuit in the High Court in Cape Town on Wednesday that seeks to compel Zuma to abide by graft ombudsman Thuli Madonsela's findings last year that he should repay some of the 215.9 million rand ($16.8 million) spent on the makeover of his home.
The National Assembly, where Zuma's African National Congress has a 62 percent majority, adopted a report on Tuesday upholding findings by Police Minister Nkosinathi Nhleko that cleared Zuma of liability.
The DA, the main opposition party, said Nhleko's report should be declared invalid because he and lawmakers have no right to contradict Madonsela's report, whose findings can only be reviewed by the courts. Zuma denies authorizing the renovations to his property at Nkandla in the eastern province of KwaZulu-Natal.
"We maintain that the Public Protector's report reigns as a supreme document in this particular matter," DA leader Mmusi Maimane told reporters outside the court. "She has made a determination. The president must comply. His refusal is not based on anything rational."
Separate Lawsuit
The Economic Freedom Fighters, the second-largest opposition party, has filed a separate lawsuit in the Constitutional Court that seeks to have Nhleko's report declared unconstitutional.
The chances of the lawsuits succeeding are slim and will depend on how they are framed, said Pierre De Vos, a law professor at the University of Cape Town.
"A successful case is going to have to challenge the decision by the president not to comply with the remedial action," he said by phone from Cape Town.
The ANC has said the scope, scale and cost of the project at Zuma's private residence had been grossly exaggerated. The party blamed corrupt officials and contractors for inflating prices and said they should be held accountable.
"The president, whom no report found guilty of any unlawful or corrupt conduct in the entire prestige project, cannot be expected to pay," ANC chief whip Stone Sizani said in an e-mail on Tuesday. "The real battle against corruption and malfeasance in our society is often sacrificed on the altar of political opportunism."
The DA expects the High Court to hear its case in October.
"The ANC may feel they managed to secure a victory for the president," Maimane said. "The war is far from over."
Before it's here, it's on the Bloomberg Terminal.
LEARN MORE