SoftBank Climbs After Arora's $483 Million 'Bet' on Shares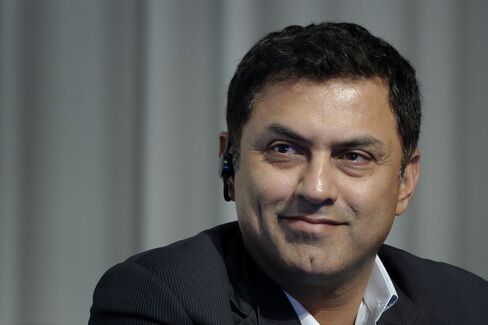 SoftBank Group gained on President Nikesh Arora's plan to buy about 60 billion yen ($483 million) of the company's shares, saying he wants to make a "personal bet" as a measure of his commitment.
The shares climbed 2.2 percent to 7,642 yen as of the close in Tokyo trading Thursday.
"There cannot be a more bullish statement than this for the stock," said Atul Goyal, an analyst at Jefferies Group LLC. "This happens a lot with senior management, but I haven't heard of this big a stake taken by anyone."
Founder Masayoshi Son promoted Arora to president effective in July and said the former Google Inc. executive was likely to succeed him in running the company. The stake would make Arora, 47, the biggest individual shareholder after Son.
"This is a large transaction for me, and involves taking an enormous risk," Arora said in a filing to the Tokyo Stock Exchange on Wednesday. "However, I am extremely confident about the future of the SoftBank Group."
Goyal, who recommends buying SoftBank stock, forecast the shares will trade at 12,200 yen in a year, 60 percent higher than Thursday's closing price in Tokyo.
Among Arora's duties are overseeing global expansion and the turnaround of Sprint Corp., the fourth-largest U.S. wireless carrier. In a vote of confidence, SoftBank has acquired 44.2 million shares of Sprint in nine days, including 4.5 million Tuesday, according to a filing Wednesday.
Confidence Votes
The share purchases lifted Sprint shares almost 50 percent since Aug. 7, adding more than $6 billion to the carrier's market value. SoftBank, which now holds 80.8 percent of the unprofitable U.S. company, said it expects to buy more shares but not exceed an 85 percent stake, according to the filing.
Since joining SoftBank in September, Arora earned about 16.6 billion yen through the end of March. He will acquire the SoftBank shares as a "program trade over the next 6 months," according to the statement.
"It will increase his credibility in the eyes of investors as it shows his commitment to the company," said Satoru Kikuchi, an analyst at SMBC Nikko Securities Inc. "Arora has been in SoftBank only for a year, so it is too short of a time to let the market value him."
SoftBank has gained 6 percent this year, compared with a 15 percent gain for the benchmark Topix index.
"I am delighted that Nikesh has decided to double down on his partnership with me at the SoftBank Group," Son said in the statement Wednesday. "I expect him to succeed me at the appropriate time."
Before it's here, it's on the Bloomberg Terminal.
LEARN MORE