So Long September: Bond Traders Defer Their Date With the Fed
So much for September.
Traders gearing up for the Federal Reserve to raise interest-rates next month reversed course Wednesday after minutes from the central bank's July meeting showed policy makers were still waffling on whether the economy is strong enough to warrant higher borrowing costs.
That's far short of the confidence they expected to see from a central bank supposedly just weeks away from what would be the first increase in almost a decade.
The probability that futures traders assign to a rate boost next month slid to 36 percent, the lowest since July, from about 50 percent earlier in the day. The levels assume that the Fed's target will average 0.375 percent after the first move. The chance of an increase at or before the Fed's December meeting dropped as well, to 65 percent from 73 percent Tuesday.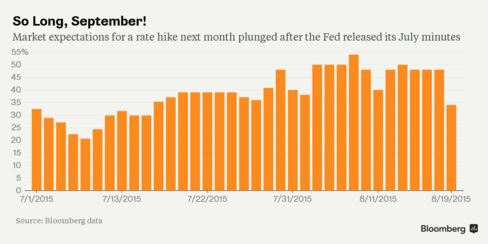 Declining energy prices and a strengthening dollar have weighed on bond-market inflation forecasts. So the news that officials had discussed persistently low inflation led traders to exit bets that the central bank was set to start raising interest rates. Before Wednesday, investors were betting that long-term Treasuries, which are sensitive to inflation, would outperform shorter maturities, which are more vulnerable to changes in Fed policy.
"Their stance on inflation has changed," said George Goncalves, head of interest-rate strategy in New York at Nomura Holdings Inc., one of 22 primary dealers that trade with the Fed. "It's starting to feel like they're not going to go in September."
No Guarantee
With the reversal of those bets, the premium that investors demand to own 30-year Treasuries instead of two-year notes swelled to the widest since Aug. 12 on Wednesday.
"Those minutes did not guarantee a September rate hike, and some people were hoping that it would," said Charles Comiskey, head of Treasury trading in New York at Bank of Nova Scotia, another primary dealer.
Traders aren't completely ruling out a September increase. But Neil Bouhan, an interest-rate strategist with BMO Capital Markets, said it's notable that the meeting happened before China's devaluation of its currency this month and the deepening slump in crude prices, both of which have depressed inflation expectations. The Fed's favored market inflation measure has dropped to 1.91 percent from 2.05 percent between July 29 and the release of the minutes.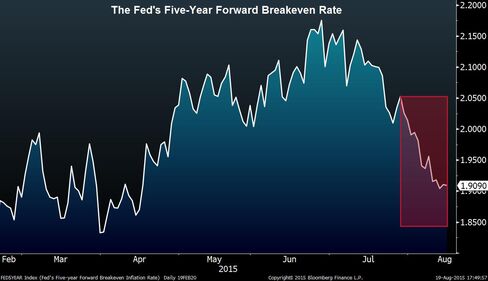 The minutes "seem to suggest that if the meeting were today, the FOMC would be uncomfortable with the current conditions, which is how the market took this," Bouhan, who's based in Chicago, said in a report.
Before it's here, it's on the Bloomberg Terminal.
LEARN MORE