Russia ETF Posts Longest Losing Streak in Eight Months on Oil
Short interest in Market Vectors ETF hovers near 5-month high

The economy is projected to contract 3.6 percent this year
The biggest exchange-traded fund tracking Russia's stocks slumped to a six-month low with traders betting on more declines as a widening oil rout and a plunge in the ruble lessened the odds of further interest-rate cuts.
The Market Vectors Russia ETF dropped 2.8 percent to $15.69 in New York. The fund tumbled for the seventh day, the longest losing streak since December, when policy makers pushed the key interest rate up 6.5 percentage points to stem the ruble rout. Short interest in the fund hovered at 10 percent of shares outstanding, a five-month high.
Russian equities tumbled as crude, the country's biggest export, slid below $48 a barrel for the first time since January, widening its slide into a bear market. The ruble, the world's best performer earlier this year, has dropped the most in emerging markets in the last three months.
The currency's retreat limits the Bank of Russia's ability to counter an economic contraction with further rate cuts, according to Anastasia Levashova, a portfolio manager at Blackfriars Asset Management Ltd.
"With the ruble trading at current levels, it's very hard for the central bank to continue cutting the key rate, and for foreign investors that buy Russian stocks in dollars, the weaker ruble is a bad signal," Levashova, who helps manage about $350 million at Blackfriars Asset Management Ltd. in London, said by phone on Wednesday. "The market is in a weak position, and there seems to be little incentive for things to turn around."
Economy Slumps
In addition to oil selling for about half of its five-year average price, Russia's growth has been curbed by international sanctions linked to the Ukraine conflict. Wages adjusted for inflation plummeted 9.2 percent from a year earlier in July, the Federal Statistics Service in Moscow said Wednesday, exceeding the 7.5 percent median of 17 estimates in a Bloomberg survey. The economy is heading for an estimated 3.6 percent contraction this year.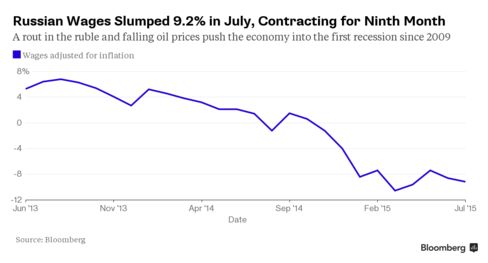 Policy makers, who in December increased the key interest rate to 17 percent, have since lowered it by a cumulative six percentage points to 11 percent in five steps. The central bank may pause its series of cuts if oil prices fall to $40 a barrel, Kremlin economic aide Andrey Belousov said in an interview on Tuesday.
The ruble dropped for a fifth day, sliding 1.1 percent to 66.6050 per dollar, a six-month low. Brent crude, the measure traders use to price the country's main export blend, fell 3.4 percent to $47.16 a barrel on Wednesday.
A Bloomberg gauge of U.S.-traded Russian stocks slipped 1.1 percent to 49.01. Futures on the RTS Index expiring in September added 0.1 percent to 78,880 in U.S. hours.
Before it's here, it's on the Bloomberg Terminal.
LEARN MORE