RBA Takes to Soapbox to Prod Do-Nothing Leaders on Reform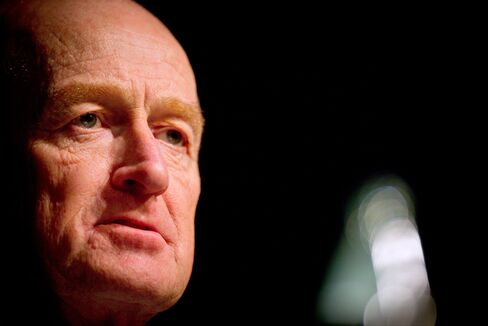 Glenn Stevens is entering his final 12 months as Australia's central bank governor and he has a message for the political class: You're holding us back.
Frustrated by a lack of political consensus on reform and approaching the limits of what he can achieve with interest rates, Stevens and his deputies are taking to the soapbox to press for a new narrative on economic change.
Greater competition, improved infrastructure and a reform strategy that Australians can understand and support are just some of the changes the Reserve Bank of Australia has called for as it tries to stem a slide in the economy's potential growth. The commentary is a departure for the central bank, which is usually reticent about entering policy debates beyond its remit.
The central bank chief in June lamented a lack of productivity-enhancing infrastructure under construction in Australia and noted that funding wasn't the obstacle. "The impediments are in our decision-making processes and, it seems, in our inability to find political agreement," Stevens said.
His deputy and heir-apparent, Philip Lowe, last week said the country needed to boost returns from investment in new assets and said the problem wasn't due to a shortage of "sensible" proposals to cut regulation and increase efficiency.
"Monetary policy is already doing a lot of work to lift growth in the economy and there's not a whole lot more that it can do," said Paul Bloxham, chief Australia economist at HSBC Holdings Plc. "If they want to try to have some impact on the potential growth rate of the economy, it really is all about pointing out that more needs to be done in terms of structural reform."
Speed Limit
The International Monetary Fund warned in June that the Australian economy's speed-limit -- or the growth rate at which inflation starts to accelerate -- could drop from above 3 percent to 2.5 percent. That would mean "significantly lower" gains in national income unless the government grasps the nettle on tax reform and increases infrastructure spending to boost productivity and demand.
Stevens picked up on this point last month. Australia's economy expanded by an average 3.3 percent over the past 30 years, yet failed to reach that level in six of the past seven.
"Perhaps trend output growth is lower than the 3 percent or 3.25 percent we have assumed for many years," he said July 22. "Perhaps the growth we have seen is in fact closer to trend growth than we thought."
The governor is scheduled to speak at a National Reform Summit hosted by the Australian and the Australian Financial Review newspapers in Sydney on Aug. 26.
Manageable Emergency
Prime Minister Tony Abbott has ditched spending cuts that made his first budget so unpopular, delivering in May what he had promised would be a "dull" second budget. After surviving a leadership challenge in February, Abbott said fiscal problems that he called an emergency prior to his election were now manageable.
He's also sent contentious policies to review committees and indicated that changes in taxes, labor relations, pension savings and coordination with the states are unlikely before elections due late in 2016.
Even Abbott's own top economic bureaucrat warned this month that reforms like increasing competition shouldn't be put in the "too hard" basket and left to another generation. He also reflected on the previous governments of Labor Prime Ministers Bob Hawke and Paul Keating that overhauled the nation's economy.
Competition Culture
"Through the work of many — and the leadership of a small number of eminent people — a new culture of competition took hold through the 1980s and 1990s," Secretary to the Treasury John Fraser said Aug. 6. "Now, as Australia emerges from the largest mining boom in its history, we face a similar set of challenges and face remarkably similar choices."
For now, the government is relying on a benchmark interest rate at a record-low 2 percent to support growth and the portents for it taking up the reform cudgel aren't good.
"This is not a reformist government," said Andrew Hughes, a lecturer at the College of Business and Economics at Australian National University. "The government is out of synch with industry, which wants it to hurry up on reform because long-term we're not going to be competitive in a global economy."
Stevens's resolve to speak more openly on the challenges facing Australia contrasts with his reticence to enter the political discussion in the months ahead of his reappointment in 2013.
His decision to speak less obliquely in the final year of his decade-long term, which ends in September 2016, is not without precedent.
The governor's predecessor, Ian Macfarlane, complained in a newspaper interview in his final year in 2006 that the then-government's election pledge to keep interest rates lower than the opposition was "annoying" and "not plausible."
Before it's here, it's on the Bloomberg Terminal.
LEARN MORE