Putin Offers Russian Citizenship to U.S. Boxer Roy Jones Jr.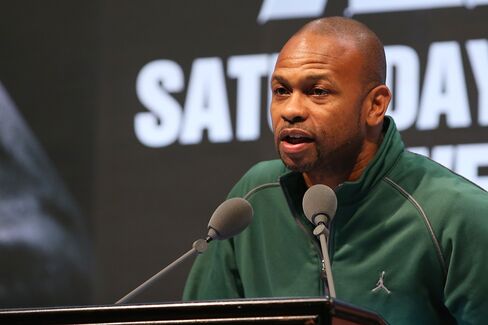 Russian President Vladimir Putin offered citizenship to U.S. former world-champion boxer Roy Jones Jr. during a meeting in Crimea, the Black Sea peninsula annexed from Ukraine.
Jones, 46, told Putin he enjoys visiting Russia, although it would be easier if he had a Russian passport, according to a transcript published on the Kremlin website in Russian late on Wednesday. "People here love sport," he said. "That's why I love this place."
An English-language transcript the Kremlin published later gave a different version of Jones's comment: "All the people here seem to love Roy Jones Jr. And I love when people love me."
Putin said that he likes boxing "very much" and will gladly offer citizenship to the fighter if he intends to spend "significant" time in the country. "Your name is very well known among sports and boxing fans in Russia," the president said.
Jones won world titles in middleweight, super middleweight, light heavyweight and heavyweight classes over more than a decade from 1994, according to his website. While he's back in the ring, Jones, who's also a rapper and actor, is visiting Crimea as a singer at a boxing show, according to the Kremlin.
The fighter made a written application for Russian citizenship at a news conference in the Crimean resort of Yalta on Thursday, the Interfax news service reported.
Improve Relations
Russia annexed Crimea from Ukraine in March last year, triggering the deepest crisis since the Cold War in its relations with the U.S. and the European Union, which imposed sanctions that have helped push Russia's economy into its first recession in six years.
People like Jones can help improve relations between the U.S. and Russia, Putin said.
The Russian president has met numerous U.S. celebrities in recent years. The Hollywood star Mickey Rourke, 62, publicly expressed his admiration for Putin during a visit to Moscow last year, while fellow actor Steven Seagal praised the Russian leader as "'one of the greatest world leaders'' on state-funded Russia Today television.
Actor Gerard Depardieu took a Russian passport in 2013 to avoid paying higher taxes in his native France. He dined with Putin in the Black Sea resort of Sochi after receiving his new citizenship.
Before it's here, it's on the Bloomberg Terminal.
LEARN MORE