Khamenei's Lukewarm Backing of Iran Pact Encourages Opposition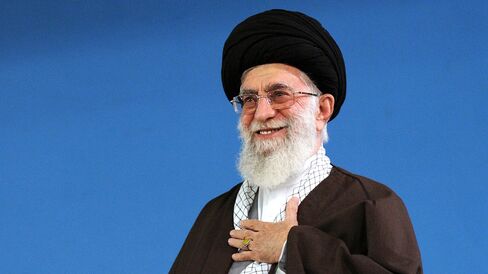 Iranian Supreme Leader Ali Khamenei's refusal to publicly back July's nuclear deal is encouraging conservative lawmakers who oppose the pact.
With an eye also on parliamentary elections next year, hardliners have jumped on Khamenei's lukewarm endorsements, calling for the agreement to be approved by parliament, rather than the National Security Council as President Hassan Rouhani favors. That would provide them with an opportunity to poke holes in the accord.
"Iran's legal procedure for approving the nuclear deal remains unclear," Mehdi Khalaji, an Iran analyst at the Washington Institute for Near East Policy, said in an e-mailed note. "The supreme leader refuses to explicitly state not only his own judgment on the deal, but also which institution should make the formal decision of approval or rejection."
In his latest comments on Monday, Khamenei, Iran's ultimate arbiter, suggested the accord might not even become law in Iran, as he restated his opposition to greater U.S. influence in the Islamic Republic.
"They thought this deal -- and it is not clear if it will be passed in Iran or in America -- will open up Iran to their influence," Khamenei told members of the Islamic Radio and Television Union, referring to the U.S. "We blocked this path and will definitely block it in the future."
During two years of talks with world powers, he did regularly express his support for Iran's negotiating team, calling them "children of the revolution." He met with Rouhani hours after the accord was reached and thanked envoys for their "sincere" work.
Lawmakers Letter
Khamenei's stance reflects his desire to balance political factions in Iran and allow room for maneuver should the U.S. Congress reject the pact, commentators say. Still, conservative newspapers such as Kayhan have cited his ambiguity as they criticized limits the deal imposes on Iran's nuclear capabilities.
Hossein Shariatmadari, Kayhan's managing editor who was appointed by Khamenei, went as far as to say in a weekend editorial that the supreme leader opposed conditions imposed by the agreement, pointing to his recent comments.
Kayhan and other conservative outlets were issued with warnings by Iran's media regulatory agency for failing to abide by rules on reporting nuclear matters, the Fars news agency said this month. One magazine was shut down.
'Voluntary Measures'
Pressure groups critical of the deal have been denied authorization for protests, and their illegal demonstrations have been poorly attended. The latest of about 100 activists outside parliament was dwarfed by protests nearby over salaries paid to kindergarten employees and steel workers' pensions.
Legislators have overwhelmingly backed calls for the conservative-dominated parliament, known as the Majlis, to examine the nuclear pact, with 201 out of 290 putting their names to a statement saying it will have no legal standing unless approved by the chamber.
Iran's nuclear negotiators, and members of Rouhani's cabinet, want that job to fall to the security council.
The Joint Comprehensive Plan of Action is "a series of voluntary measures that both sides have agreed on," said Deputy Foreign Minister Abbas Araghchi in a television interview, using the formal name for the July accord. "This does not fit the form of a treaty and there is no need for Majlis approval."
February Poll
The deal, which will remove sanctions in return for restrictions on Iran's nuclear program and conventional arsenal, delivers on the central pledge of Rouhani's administration: ending Iran's isolation and economic stagnation.
With parliamentary elections set for February 2016, lawmakers are reluctant to be pushed to the sidelines.
"There are commitments in this agreement that should be considered by the Majlis," said Ali Larijani, speaker of parliament. "The agreement creates certain obligations and needs a legal status."
Ayatollah Ahmad Janati, the head of the Guardian Council which vets legislation to ensure it conforms to Islamic values, backed calls for parliament to vote on the deal.
The agreement "must go to Majlis to be approved and ratified," Janati said in his Friday prayers sermon. "The authorities must make a decision."
Khamenei Says Iran, U.S. Opposition Cloud Fate of Nuclear Deal
Before it's here, it's on the Bloomberg Terminal.
LEARN MORE