Harper Stands By Top Aide Novak Under Fire in Duffy Affair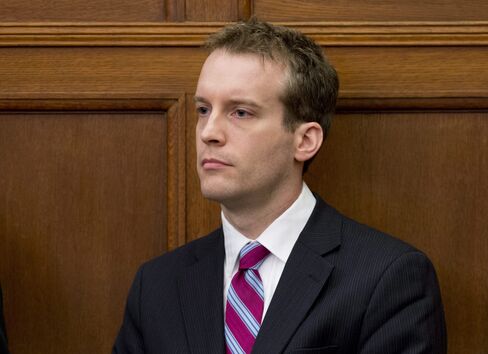 Prime Minister Stephen Harper is sticking by the latest senior aide to be implicated in a Senate spending controversy that has become the focus of a Canadian election campaign.
Harper brushed aside questions from reporters Wednesday about the involvement of his current chief of staff, Ray Novak, in a secret 2013 payment to a lawmaker. Evidence implicating Novak has emerged from the ongoing trial of Mike Duffy, a former Conservative senator facing 31 criminal charges in relation to the misuse of expense claims. The most politically-charged part of the case involves a personal C$90,000 ($68,400) payment by Nigel Wright, Novak's predecessor, to Duffy aimed at snuffing out the growing scandal.
The trial is drawing attention in the middle of an election campaign to a scandal that marks the first time Harper's inner circle was implicated in serious wrongdoing and raised questions about what the prime minister knew and when he knew it. Harper has repeatedly said Duffy and Wright were the only people responsible and are being held to account.
"There are two people in my judgment who are responsible," Harper told reporters Wednesday at a campaign stop in London, Ontario. Wright took action "without my authority and contrary to my wishes."
Wright, whose testimony concluded Wednesday after a week on the witness stand, shouldered the blame for the payment to Duffy. While Harper was aware of some elements of the plan to end the controversy, the prime minister wasn't told Duffy would be repaid, said Wright.
Perrin Testimony
Benjamin Perrin, a lawyer who worked with Wright and Novak at the time in the Prime Minister's Office, and who's also implicated in the Duffy payment discussions, is due to testify Thursday.
Since then, Duffy's legal team has sought to suggest in the trial the scheme was part of a broader effort by Harper's office to minimize the damage from a Senate expenses scandal, with Duffy only a reluctant participant.
E-mails presented as evidence over the past week suggest Novak, a key Conservative figure and Harper's personal aide at the time, was among senior staff who knew about the payment.
The court has heard how Wright wrote to both Novak and Perrin, the PMO lawyer, to say he would "send my cheque on Monday" in regards to the Duffy matter, according to a 2013 e-mail. The Conservatives have said Novak didn't read that e-mail.
Front-Page
Other e-mails refer to a conference call where details of the payment were discussed. The call was scheduled to include Wright, Perrin and Novak. With Wright on the witness stand Tuesday, Duffy's lawyer Donald Bayne read from a police interview with Perrin, who told investigators Novak was in the room when the payment was discussed.
The RCMP haven't charged Harper, Wright or Novak with any wrongdoing. Bayne hasn't called Harper or Novak to testify.
Novak's involvement has been front-page news in Canada and dominated the campaign, with opposition leaders calling on Harper to fire his aide and others implicated in the matter.
"This comes down to whether Canadians can trust the prime minister and his office," Liberal Party leader Justin Trudeau said today in Winnipeg.
The New Democratic Party, which polls show is Harper's biggest threat in the campaign, called on police Tuesday to reconsider whether to charge Wright.
At one point in court Wednesday, prosecutor Mark Holmes objected to the questioning of Wright by Duffy's lawyer, saying it appeared to be "entirely politically motivated." The judge allowed the questioning to continue.
E-mail Evidence
Further complicating things for Harper was a statement last week by Conservative campaign spokesman Kory Teneycke, who told reporters it would be "unfathomable" that Novak wouldn't tell the Prime Minister had he known about the payment. Novak is traveling with Harper during the election campaign and hasn't spoken to reporters.
The e-mail evidence also shows that Novak, on one occasion in February of 2013, served as a conduit for input from Harper on the matter. Novak sent an e-mail to a group of staffers with feedback from Harper on Senate residency rules. It's the only example of direct involvement by Harper, and doesn't relate to payment, but demonstrates Novak's close ties to Harper.
The e-mails also broadly lay out how Harper's office worked with Duffy and other senators to cover up the matter and to release misleading statements to the press, including that Duffy had repaid the expenses.
Before it's here, it's on the Bloomberg Terminal.
LEARN MORE