S&P 500 Sinks Most in 18 Months as Emerging-Asset Rout Spreads
The rout in emerging-market assets knocked the Standard & Poor's 500 Index out of its seven-month trading range and sent U.S. equities down the most in 18 months amid mounting concern that global economic growth is faltering.
A selloff in currencies from Kazakhstan to Thailand roiled stocks around the world, wiping out 2015 gains in U.S. equities and sending the U.K. share market into a correction. Investors sought the safety of gold and Treasuries as the S&P 500 breached a key technical level its been above since March.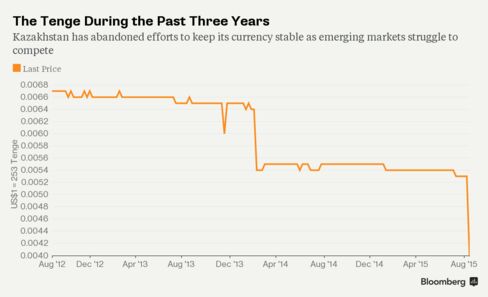 Investor anxiety over emerging markets is increasing as the Federal Reserve considers when to boost interest rates, a move that would burnish the appeal of dollar assets. A global slowdown may delay the move, with minutes of the Fed's July meeting out Wednesday indicating officials are concerned over stubbornly weak inflation caused in part by a commodities rout.
"There are so many more concerns than hopes," said Larry Peruzzi, director of international trading at Cabrera Capital Markets LLC in Boston. "There are global growth concerns, Fed minutes created some uncertainty about rates, and also playing a part is oil poised to dip below $40. Add in light August volumes in the stock pot and you get a negative 1 percent move."
The S&P 500 closed down 2.1 percent by 4 p.m. in New York, its lowest level since February. The MSCI All-Country World Index sank to a seven-month low, as the U.K.'s FTSE 100 Index slipped an eight straight day. Yields on 10-year Treasuries dropped six basis points, or 0.06 percentage point, to 2.07 percent, and gold advanced to a one-month high. Greek bonds declined Prime Minister Alexis Tsipras quit and called snap elections.
Range Broken
The S&P 500 slipped out of the 70-point trading range it has been stuck in since March, falling below 2,040 to as low as 2,035.73. The gauge erased its gain for the year and is now 4.5 percent below its May record. The benchmark slid through its average price for the past 200 days for the fourth time this month, failing to rise back above it by the close for the first time since July 9.
"We have been conditioned to buying on the dip," said Quincy Krosby, a market strategist for Newark, New Jersey-based Prudential Financial Inc., which oversees more than $1 trillion. "What's happening is that investors want that dip deeper. It's no longer a knee-jerk reaction to buy on the dip because the Fed will underpin the market. Investors are being much more cautious and not as sure that the Fed will be there."
Winners Hit
Selling Thursday was heaviest among some of the bull market's biggest winners. Netflix Inc. lost 7.8 percent, while media stocks sank as Walt Disney Co. tumbled 6 percent amid an analyst downgrade. Bank of America Corp. and Citigroup Inc. slumped more than 2.5 percent to pace declines among the largest banks.
The Philadelphia Stock Exchange Semiconductor Index sank
3.8 percent to bring its drop from a June high to more than 20 percent, the common definition of a bear market. The Nasdaq Biotechnology Index extended losses from a July peak to 12 percent, meeting the definition of a correction.
While the Fed minutes showed that officials saw the conditions for raising rates almost fulfilled, the gathering took place before China's surprise currency devaluation on Aug.
11. Three rounds of Fed bond purchases and seven years of near-zero interest rates have helped the S&P 500 rally more than 200 percent from its bear-market low.
Fed Bets
Data Thursday indicated that a measure of the economic outlook for the next three to six months declined, while purchases of previously owned U.S. homes unexpectedly rose in July to the highest level since February 2007.
Futures show traders see a 34 percent probability the Fed will raise the benchmark rate at its Sept. 16-17 meeting, based on the assumption that the effective fed funds rate will average
0.375 percent after the first increase. That's down from about 50 percent before release of the Fed minutes on Wednesday.
MSCI's Emerging Markets Index slid 1.2 percent to the lowest level since 2009. Shares in Shanghai dropped 3.4 percent even as the central bank takes steps to support markets. Hong Kong's Hang Seng China Enterprises Index sank 2.3 percent to a 10-month low.
Turkey's lira briefly slid past 3 against the dollar for the first time ever and South Africa's rand breached 13 per dollar, a level not seen since 2001. Russia's ruble dropped to the weakest since February and Malaysia's ringgit returned to a 17-year low.
Currency Devaluations
Kazakhstan's shift to a free-floating currency came a day after authorities let the tenge slide 4.5 percent against the dollar, the most since a devaluation 18 months ago. Vietnam also devalued its currency, the dong, on Wednesday.
China's central bank injected the most funds in open-market operations since February on Thursday as intervention to prop up the yuan strained the supply of cash and drove a key money-market rate to a four-month high.
The Stoxx Europe 600 Index dropped 2.1 percent as mounting concern over global growth and uncertainty over the timing of U.S. tightening fueled a second day of losses.
Oil in New York traded near its lowest level in more than six years. West Texas Intermediate advanced 0.8 percent to settle at $41.14 a barrel after sliding 4.3 percent on Wednesday. Brent slid 1.1 percent to end the day at $46.62.
"What won't be lost on investors is that U.S. oil prices have fallen nearly 16 percent since the July FOMC meeting," Raiko Shareef, a markets strategist in Wellington at Bank of New Zealand Ltd., said in a client note, referring to the Fed's Open Market Committee. "This will prove disinflationary."
Gold futures on the Comex in New York climbed to $1,151.70 an ounce on Thursday, the highest level in more than a month. Bullion has rallied more than 7 percent from a five-year low in July amid currency devaluations and global economic concerns
Copper snapped a five-day decline and advanced with most other metals after weaker-than-expected inflation figures from the U.S. trimmed bets on a September increase in interest rates.
Before it's here, it's on the Bloomberg Terminal.
LEARN MORE