Zijin Vows to Boost Oversight of Chemicals After Tianjin Blasts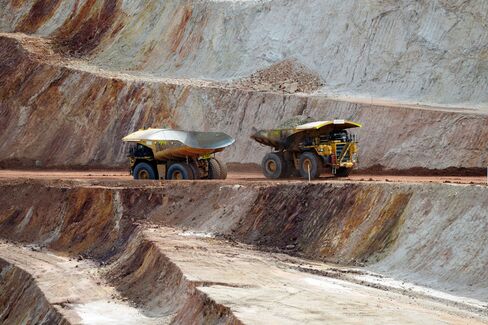 The owner of China's largest gold mine said that it will strengthen control over dangerous chemicals after explosions in Tianjin killed more than 100 people last week, underlining how companies are responding to the disaster.
Zijin Mining Group Co. will inspect how it buys, ships, stores and uses chemicals including sodium cyanide, according to a statement on its website that cited a board meeting hosted by Chairman Chen Jinghe. The checks will run through December, and anyone found to be responsible for accidents related to safety and the environment will be fired, it said.
The Aug. 12 explosions that devastated an area of the port city probably involved sodium cyanide stored in a warehouse for dangerous chemicals. While the material wasn't linked to Zijin Mining, the industrial accident spurred widespread online discussion in China about the handling and use of cyanide, including in gold mining. Premier Li Keqiang visited Tianjin on Sunday and pledged to find out what caused the explosions.
Zijin Mining needs to "educate the public and dissolve their concern about cyanide use," it said in Tuesday's statement, which followed the board meeting a day earlier. "We can ensure safety as long as we have strict control."
China is the world's top bullion producer. Cyanide can be used to separate particles of gold from ore. Preliminary investigations in Tianjin showed toxic chemicals including sodium cyanide may have been stored at the warehouse, according to the Tianjin Administration of Work Safety.
More than 80 percent of gold-mining industries in developed countries including the U.S. use cyanide, which degrades easily in the natural environment, Zijin said. The company has never detected any cyanogen, or a measure of residues, in the Ting River downstream from its Zijin Mountain mine, it said.
"Zijin Mining will emphasize scrutiny of all aspects regarding sodium cyanide," the company said, citing the intense media spotlight on the chemical after last week's blasts.
Zijin said earlier this month that it's the country's most profitable gold miner, accounting for a third of the industry's earnings on less than 10 percent of its output last year. It cited rankings from the China Gold Association.
— With assistance by Feiwen Rong
Before it's here, it's on the Bloomberg Terminal.
LEARN MORE