U.K. Inflation Quickens as Core Rate Rises to 5-Month High
Britain's inflation rate unexpectedly rose in July and a core measure of price growth increased to the highest in five months. The pound jumped.
The change in the headline reading to 0.1 percent from zero was mainly driven by smaller clothing discounts in the summer sales this year compared with a year earlier. Economists in a Bloomberg survey had forecast the rate would stay at zero. The core measure -- which excludes volatile food and energy costs -- increased to 1.2 percent from 0.8 percent, higher than the 0.9 percent reading predicted by economists.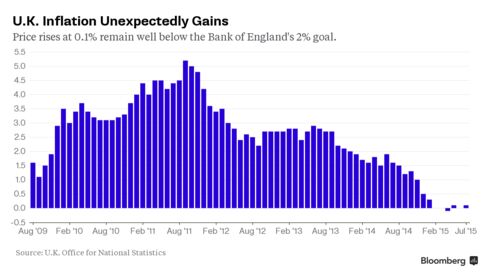 While the figures published Tuesday were stronger than anticipated, inflation is still well below the Bank of England's 2 percent target. Policy makers have said it will remain low in the short term because of the strength of the pound and a renewed decline in oil prices. Over the longer term, Governor Mark Carney says price growth will accelerate and the time to begin raising the interest rates is approaching.
https://twitter.com/ONS/status/633557088099258368
"Tightness in the labor market is now generating some wage inflation," Kallum Pickering, an economist at Berenberg Bank in London, said in an interview with Bloomberg Television's Francine Lacqua and Manus Cranny. "Throughout the rest of the year we'll see further tightness prompting more increases in wages and that should bring on core inflation a little bit further."
Services Inflation
The pound rose 0.7 percent to $1.5702 as of 11:42 a.m. London time after the report from the Office for National Statistics. Economists forecast that the first increase in the benchmark rate from a record-low 0.5 percent will happen in early 2016.
Policy maker Kristin Forbes said this week there are risks associated with delaying a rate increase and she's watching for signs of domestic pressures. Services inflation, a proxy for domestic price growth, accelerated to 2.4 percent in July, the fastest in four months.
"This is great news for working people and family budgets," said Jim O'Neill, commercial secretary to the U.K. Treasury. "But the job is not done and we will continue to remain vigilant to all risks, particularly when the global economic situation is so uncertain."
https://twitter.com/ONS/status/633557265547722752
The ONS report showed that U.K. consumer prices fell 0.2 percent in July from June. In addition to clothing, the main upward contribution to the annual rate was from transport costs such as air fares. Food and non-alcoholic beverages fell on an annual basis for a 13th month, the longest stretch on record.
Rail Fares
"This is the sixth month running that headline inflation has been at or close to zero," said Richard Campbell, a statistician at the ONS. "While households will have seen individual prices rise and fall, the overall shopping basket bought by the country remains little changed in price compared with a year ago."
The ONS said the retail-price measure of inflation was at 1 percent in July. That means regulated rail fares will increase by that amount on average next year under government rules on ticket prices. Prime Minister David Cameron has said that a real-terms freeze on rail fares will be maintained for the full five years of this Parliament.
Before it's here, it's on the Bloomberg Terminal.
LEARN MORE