Shoprite Profit Rises as South Africa Food-Market Share Up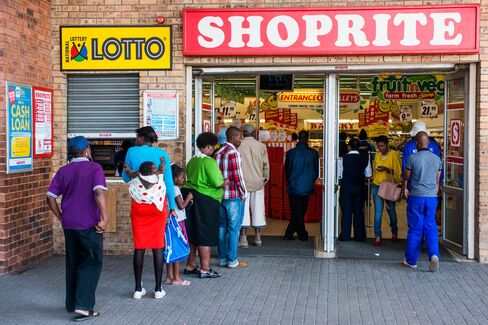 Shoprite Holdings Ltd.'s full-year profit climbed 11 percent as South Africa's largest food retailer increased its market share for a ninth straight year.
Headline earnings, which exclude one-time items, rose to 7.73 rand a share in the 12 months through June 30 from 6.98 rand a year earlier, the Cape Town-based company said in a statement Tuesday. The average of 16 analyst estimates was for 7.75 rand. The board declared a final dividend of 2.43 rand a share, raising the year's total payout 10 percent to 3.86 rand.
"It's locally helped by an improved performance from the Shoprite brand," said Kyle Rollinson, an analyst at Avior Capital Markets in Johannesburg. Sales through the Shoprite brand account for a little more than half of the company's total supermarket revenue in South Africa. Other brands include Checkers, OK Furniture, House & Home and MediRite.
South African shopping chains have struggled in the past year as unemployment of about 25 percent, prolonged strikes and high levels of personal debt contributed to sluggish growth in household incomes.
Sales at the Shoprite brand, which caters to the lower- to middle-income groups, rose 8.5 percent.
The shares climbed as much as 3.1 percent to 162.99 rand and traded at 162.69 rand as of 12:14 p.m. in Johannesburg.
Currency Loss
Sales in Africa outside of the retailer's home market were "negatively affected by the drop in oil prices in Angola and Nigeria and their currencies depreciating against the U.S. dollar," Shoprite said in the statement. With 189 supermarkets beyond the borders of South Africa, sales in rand terms outside its home market climbed 14 percent.
The company had an exchange-rate loss of 132 million rand compared with a loss of 9 million rand a year earlier, mainly due to the devaluation of the Angolan, Nigerian and Mozambican currencies against the dollar, it said.
Shoprite intends to continue "its strong expansion drive in Africa with 35 new stores planned" for African countries outside its home market by June 2016.
Before it's here, it's on the Bloomberg Terminal.
LEARN MORE