Nagoya Railroad to Sell Futami Sea Paradise Attraction to NSSK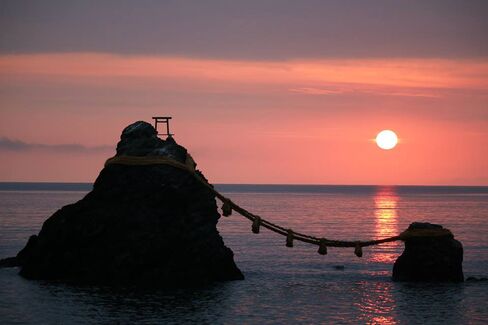 Nagoya Railroad Co., the Japanese transport operator, agreed to sell the Futami Sea Paradise aquarium to domestic private-equity firm Nippon Sangyo Suishin Kiko Ltd.
Nagoya Railroad is selling Meotoiwa Paradise Co., which owns the attraction in Ise City of western Japan's Mie prefecture as well as a roadside restaurant near the aquarium, spokesman Takuya Suzuki said by phone. NSSK, run by TPG Capital's former Japan head, will pay about 5 billion yen ($40 million), people with knowledge of the matter said, asking not to be named as the information is private.
The deal will be the second investment for NSSK, started last year by Jun Tsusaka to target investments in smaller Japanese companies in regional economies. Futami Sea Paradise was rated fifth last year among Japanese aquariums, according to rankings from TripAdvisor's local website.
Nagoya Railroad's Suzuki declined to comment on further details, including the transaction price. A representative for NSSK, who asked not to be named due to company policy, declined to comment.
Foreign travelers to Japan surged 46 percent in the six months through June to 9.14 million, putting this year on track to surpass the previous record of 13.4 million from 2014, according to Japan National Tourism Organization data.
NSSK last year bought 70 percent of US.Mart Co., a developer of indoor children's playgrounds based in Ise City. Tsusaka, who holds a Master's of Business Administration from Harvard University, joined TPG in 2006 after working at Goldman Sachs Group Inc. in New York.
Before it's here, it's on the Bloomberg Terminal.
LEARN MORE