Look What the Heat Wave Is Doing for Power Prices in New York City
Temperatures in the Northeast are doing a number on electricity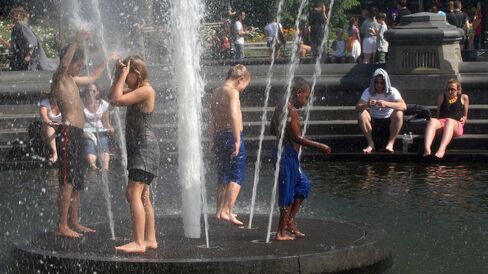 New York City residents will have to wait until Wednesday for a break from the first official heat wave in two years -- and from the high power prices that come with it.
Four days of temperatures at 90 or higher in Central Park have sent the cost of on-peak power to the highest level in three weeks.
As of 5 p.m. Monday, on-peak power in the city was $58.86 a megawatt-hour, the highest average price since July 28, according to grid data compiled by Bloomberg. Demand rose to 10,162 megawatts, the highest level for the hour since July 29, as people blasted their air conditioners to keep cool while temperatures reached a record for the date of 95 Fahrenheit (35 Celsius).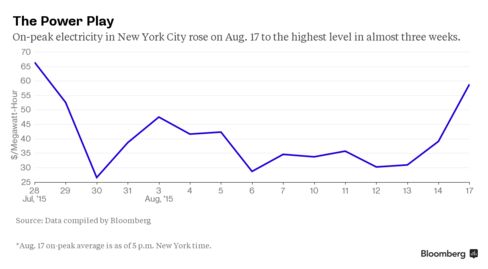 New York on-peak power was trading at a premium to Boston power on Monday amid the high consumption in the city.
The high temperature in New York on Tuesday is expected to reach 91 degrees Fahrenheit (33 Celsius), 8 degrees above normal, according to AccuWeather Inc. in State College, Pennsylvania.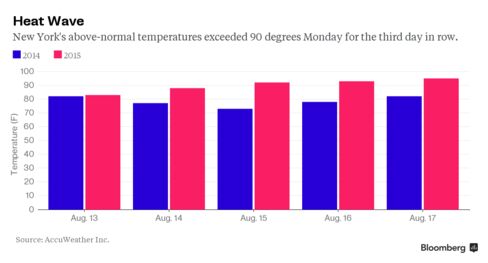 Consolidated Edison Inc., the city's utility, encouraged residents to watch their electricity use. Customers were advised to reduce heat in their homes by running appliances such as ovens, washing machines, dryers and dishwashers early in the morning or late at night, when it's cooler and power demand is lower.
A heat wave is defined by meteorologists as three consecutive days with highs reaching 90 or above. New York's forecast calls for temperatures to decline to the more seasonal mid-80s on Wednesday, with another heat wave possible at the end of the month.
Temperatures, consumption and prices also were higher in the mid-Atlantic states on Monday. Demand surged on the 13-state PJM Interconnection LLC network, the nation's largest power grid.
Before it's here, it's on the Bloomberg Terminal.
LEARN MORE