Homebuilders Cast Aside Legacy of U.S. Housing Market Collapse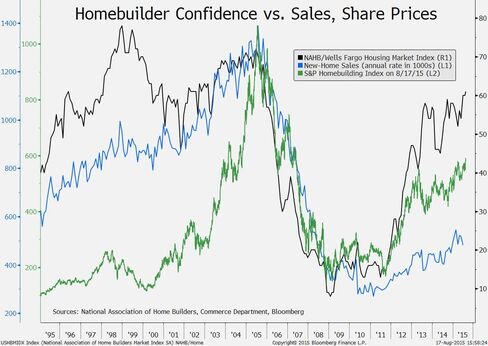 Homebuilders are rebuilding the confidence they lost when the U.S. housing market collapsed in the 2000s, and the renewed optimism may gain support from recoveries in sales and share prices.
The attached chart shows how a confidence index, compiled by the National Association of Home Builders and Wells Fargo & Co., compares with new-home sales statistics from the Commerce Department and an industry stock index from Standard & Poor's.
Builders are the most optimistic since November 2005, according to the latest reading on the NAHB's Housing Market Index, released yesterday. The August level of 61 followed two months at 60. Readings of more than 50 indicate most builders view the market as favorable.
Confidence rebounded far more than sales or stock prices during the past few years. June's annual rate for sales of new single-family homes was 64 percent below its peak in July 2005. Yesterday's close for S&P's Supercomposite Homebuilding Index trailed its high, also set in July 2005, by 44 percent.
"Levels of confidence do not correlate to levels of activity" in housing, Michael Shaoul, chief executive officer of Marketfield Asset Management LLC, wrote in an e-mail to his clients yesterday.
Yet increases in home resales, car sales and consumer borrowing point to a return "to near-normal conditions" in the new-home market, the New York-based money manager wrote. "To an extent, this appears to be recognized by the equity market," he added, citing the S&P index. The industry gauge rose yesterday to its highest level since June 2007.
Before it's here, it's on the Bloomberg Terminal.
LEARN MORE