Here's What Gradual BOE Rate Increases Look Like to Economists
Carney says it's all about the path and not the liftoff.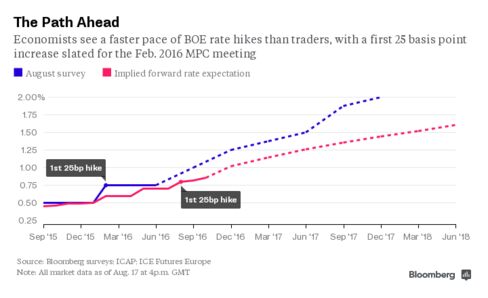 As the time for the Bank of England's first interest-rate increase since the financial crisis draws nearer, Governor Mark Carney is trying to get people to focus less on the starting point and more on the long term.
Keen not to shake the recovery, his key refrain to mortgage holders and companies has been that moves from a record-low 0.5 percent will be "limited and gradual."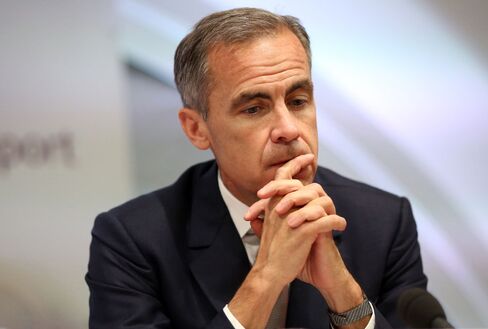 For economists questioned by Bloomberg, that means a 25 basis-point hike every three months. The survey of 25 economists was conducted Aug. 7-14.
Traders have even slower expectations. A combination of MPC-dated Sonia forwards and short-sterling futures show markets fully price in a 25 basis-point interest move for August 2016 and see borrowing costs rising to 1.6 percent by June 2018. That's an average tightening of 10-15 basis points per quarter once liftoff commences.

Carney has given his own assessment of the upper speed limit. In July, he pointed out that the average rate of tightening since the U.K. adopted an inflation target in 1992 is about 50 basis points per quarter. In that context, rises will proceed "slowly," he said.
Carney is not the only one trying to get investors to look at the map rather than the off ramp. Policy maker David Miles has also said it's the "journey" that's important.
Miles, who leaves the BOE on Aug. 31, put forward one scenario where BOE may want to raise rates by 200-250 basis points over 2 1/2 to 3 years, equating to 17 to 25 basis points per quarter over that period.
"In some ways the date at which you begin this journey back to a more normal monetary policy is not such a big deal really," he told Bloomberg this month. "What I mean by that is it's the overall trajectory that matters."
Before it's here, it's on the Bloomberg Terminal.
LEARN MORE