U.S. Stocks Drop as Commodities Slump Overshadows Housing Data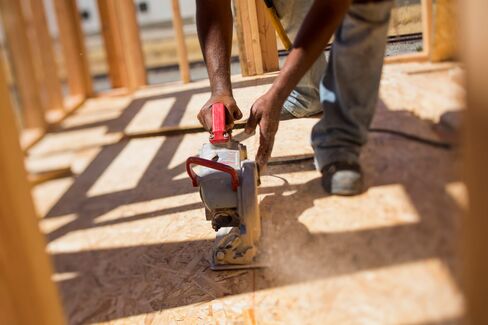 U.S. stocks fell as concern over slowing growth in China and other developing nations amid a deepening commodities selloff overshadowed improvements in America's housing market.
Freeport McMoRan Inc. dropped 3.1 percent as copper prices tumbled. Wal-Mart Stores Inc. fell 3.4 percent after cutting its annual earnings forecast, while Home Depot Inc. added 2.6 percent after boosting its outlook. Homebuilders extended yesterday's rally, with Lennar Corp. and Toll Brothers Inc. pacing gains.
The Standard & Poor's 500 Index fell 0.3 percent to 2,096.92 at 4 p.m. in New York. The Dow Jones Industrial Average lost 33.84 points, or 0.2 percent, to 17,511.34. About 5.5 billion shares changed hands on U.S. exchanges, 16 percent below the three-month average.
"We're seeing China dominating headlines and concern the consumer is not all in right now," said Bill Schultz, who oversees $1.2 billion as chief investment officer at McQueen, Ball & Associates Inc. in Bethlehem, Pennsylvania. "Until this economic environment and earnings stabilize, we're going to continue to see the back-and-forth in stocks."
Copper led a slide in commodities on speculation the global fuel glut will persist and China's economy will face further headwinds. The declines come a week after China's first major currency devaluation since 1994 surprised global investors and fueled concern authorities are struggling to combat a slowdown in the world's second-largest economy.
Interest Rates
Concern over the impact on global growth comes as the Federal Reserve is signaling it will raise interest rates this year. The central bank releases minutes from its July meeting on Wednesday, with market expectations of a September rate hike falling to about 48 percent from about 50 percent last week.
The S&P 500 continues to trade in the tightest range in nine decades, and is hovering around its average price for the past 100 days. The index is about 1.6 percent below its all-time high reached May 21.
"You can't get any definitive traction in the market one way or another," said Mark Luschini, chief investment strategist in Philadelphia at Janney Capital Management LLC, which oversees about $68 billion. "You don't feel the impetus to invest money because it looks like the market will run away from you, but at the same time it doesn't cause enough selling pressure because investors feel economic strength is decent and profit growth is OK."
The S&P 500 rose 0.5 percent on Monday as data showing strong confidence among U.S. homebuilders helped reverse earlier losses spurred by weak manufacturing in the New York region.
Housing Starts
Futures pared losses early today after data showed new-home construction in the U.S. climbed in July to the highest level in almost eight years. A drop in permits, a proxy for future construction, signals additional gains will take time to develop.
Homebuilder stocks in the S&P 500 added 2.1 percent, posting their best two-day rally since January. Lennar and Toll Brothers surged more than 2.7 percent.
Up 19 percent in 2015 to the highest level since 2006, the S&P Supercomposite Homebuilding Index has climbed in seven of the last eight days. The group's 13 members rose yesterday as the National Association of Home Builders/Wells Fargo said its builder sentiment gauge advanced to the highest since November 2005.
Home Depot
Home Depot climbed 2.6 percent to a record. The world's largest home-improvement retailer is benefiting from 40 straight months of rising U.S. housing prices, which make homeowners more confident about investing in their dwellings. Americans also may be betting on future gains, since home prices still haven't returned to their 2006 peak.
Wal-Mart dropped the most since May. Chief Executive Officer Doug McMillon is coping with a strong dollar overseas, which has cut into revenue. He's also raised wages in the U.S., aiming to retain more employees and improve customer service.
About three-quarters of S&P 500 members that have reported so far this earnings season beat profit estimates, while almost half topped sales projections. Analysts expect a 2.1 percent drop in second-quarter earnings, according to an August 14 Bloomberg survey.
The Chicago Board Options Exchange Volatility Index rose 5.9 percent to 13.79 for its second day of gains.
Eight of 10 main S&P 500 industries declined, with technology and raw-materials shares dropping more than 0.5 percent.
Semiconductor stocks slid 1.9 percent as Micron Technology Inc. slumped 4.9 percent, SanDisk Corp. lost 2.2 percent and Skyworks Solutions Inc. tumbled 5.8 percent. Bank of America Merrill Lynch analyst Simon Woo wrote in a note today that he is cautious on the memory chip sector given high capital expenditure targets.
Energy shares pared a steeper loss of as much as 0.9 percent after oil rebounded on speculation that a government report will show that U.S. crude inventories declined for a fourth week.
Before it's here, it's on the Bloomberg Terminal.
LEARN MORE