Ex-Wife of Gun Magnate Glock Gets New Ammo For RICO Suit
A U.S. Appeals Court rules that Helga Glock can use 500,000 corporate documents in a legal attack on her former husband
Helga Glock gained access to a huge store of fresh ammunition for her U.S. civil racketeering suit against her ex-husband, Austrian pistol magnate Gaston Glock. A federal appeals court in Atlanta ruled on Monday that in pursuing the racketeering action, Helga may use confidential gun company documents her lawyers obtained in connection with divorce proceedings in Austria.
The intra-family legal feud, part of a broader struggle for control of the globally famous Glock firearm empire, has generated a storm of litigation in the U.S. and Austria. In one suit filed under the Racketeer Influenced and Corrupt Organizations Act (RICO), Helga, 79, has accused her 86-year-old industrialist ex-spouse of concealing hundreds of millions of dollars in gun profits that are rightfully hers, while also tricking her out of a substantial equity stake in Glock GmbH, the Austrian parent company.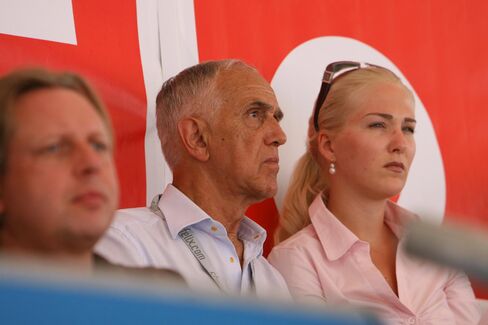 Gaston Glock has vehemently denied these allegations, which he portrays as little more than an elaborate shakedown scheme engineered by his embittered former wife and their three adult children.
In an 18-page ruling, a three-judge panel of the U.S. Court of Appeals for the 11th Circuit said that Mrs. Glock's attorneys may use voluminous records obtained from Glock Inc., the manufacturer's U.S. unit, even though the documents were disclosed as part of separate divorce proceedings in Austria. "Today's decision puts an end to a bizarre legal predicament whereby Mrs. Glock possessed 500,000 pages of documents that are directly relevant to the RICO action but could not share them with her RICO counsel," John Da Grosa Smith, Helga Glock's lead U.S. attorney, said via e-mail. A lawyer in Atlanta for Gaston Glock did not immediately return a phone call seeking comment.
The Glock battle has riveted the firearm industry for years, not least because it could help determine who controls the lucrative and influential manufacturer after Gaston Glock passes from the scene. The hostilities began in earnest when Gaston and his wife split in 2011 after 49 years of marriage, and he married a much younger woman. Helga and her three adult children have claimed that as a result of the blow-up, all four of them lost positions with the closely held gun company and were denied their full inheritances.
The 11th Circuit panel appeared to relish its involvement in a compelling corporate and personal struggle. "Gaston Glock created the Glock 17 handgun for the Austrian army in 1982. Four years later, Glock's guns arrived in the United States," Judge Robin Rosenbaum wrote by way of introduction. "Gaston's divorce followed a similar course. ... But those proceedings came to the United States even faster than Glock's handguns."
Rosenbaum outlined the pervasive influence that Glock's product has had, not only as a weapon used by most American law enforcement agencies—and a number of mass murderers—but also in movies and on television. "Within four years of their arrival in the United States, Glock firearms worked their way into American pop culture," the judge noted. "Ultimately," Rosenbaum wrote, "the ... evidence authorized for use in the RICO action, like the Glock gun, is here to stay."
Before it's here, it's on the Bloomberg Terminal.
LEARN MORE