Companies Just Aren't at Capacity Yet ...
Two reports next week will indicate to companies whether demand is improving
And they won't start to spend money until they get there, says Adam Parker. He's head of U.S. equity strategy at Morgan Stanley and on Bloomberg Surveillance, I asked him a chestnut of a question on Monday: When will companies start to spend their cash on new plants and shiny equipment, rather than dividends and buybacks?
There's no reason for a company to speculate with capital, said Parker, unless it sees a signal from its own customers that that demand is improving. He offered two indicators. Neither is where it would need to be. Both report next week.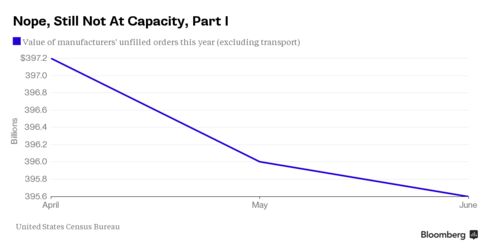 Parker pointed to backlog, the value of unfilled orders in the Census Bureau's monthly report on shipments, inventories, and orders. If a company can't ship what it has promised, it is, by definition, either at or stretching capacity. Parker uses this as a proxy for medium-term demand. It is not increasing. The Census Bureau next reports on Aug. 26.

As a proxy for short-term demand, Parker looks to the book-to-bill, a ratio of orders received to orders filled. If it's less than 1.0, the number of widgets a company is currently making (booked) is lower than the number it just shipped (billed). For the semiconductor industry, a commonly cited book-to-bill ratio, the figure slipped below 1 this summer. The Semiconductor Equipment and Materials Institute updates its book-to-bill ratio on Aug. 20.
So: no, companies are not drowning in orders they can't fill, and they're not taking in more orders than they're currently filling. Unless you have one of those problems of medium- or short-term demand, there's not much reason to spend money on new machines.
Before it's here, it's on the Bloomberg Terminal.
LEARN MORE