China Becomes Liability for Korean Stocks Dependent on Tourism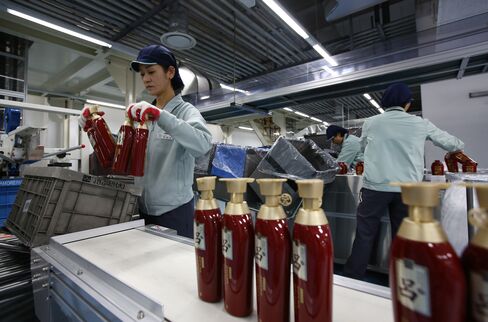 South Korean companies reliant on Chinese demand are turning from the stars of the stock market to the also-rans after the yuan's devaluation.
Shares of AmorePacific Corp., a cosmetics company that counts China as its second-biggest market, had more than doubled in the 12 months before the Chinese currency tumbled on Aug. 11. Hotel Shilla Co., which had been benefiting from an influx of mainland tourists, had rallied 20 percent. Both companies had lost 11 percent since the devaluation through Tuesday, more than five times the 1.6 percent loss of the MSCI Korea Index.
"Cosmetics, tourism, and hotels are seen hit hard as Chinese inbound flows will be affected," said Park Jeong Woo, a Seoul-based strategist at Korea investment Securities Co.
Earnings at cosmetics and tourism companies leapt as visitors from China surged 42 percent to 6.1 million last year. The yuan's weakness also spells double trouble for Korean exporters in terms of demand for their goods in China and their ability to compete with Chinese rivals in other markets. The nation's shipments have fallen every month this year as China, which absorbs 25 percent of South Korean exports, heads for its weakest economic expansion since 1990.
Hotel Shilla, Samsung Group's luxury hotel and duty-free shop operator, dropped 1.2 percent at the close, while AmorePacific, the nation's biggest cosmetics company, lost 4.4 percent. The Kospi index fell 0.9 percent to its lowest close since Feb. 10.
Explosive Increase
The won weakened to a three-year low versus the dollar on Aug. 12, the day after China weakened the yuan's reference rate by a record 1.9 percent. It traded little changed at 1,184.56 on Wednesday.
The number of Chinese visitors to South Korea boosted duty free sales to 8.3 trillion won ($7 billion) in 2014, up from 5.4 trillion won in 2011, according to data from Korea Customs Service. Hotel Shilla earned 90 percent of revenue from its duty-free shop business in the second quarter, while AmorePacific derived 15 percent of sales from China, up from 11 percent a year earlier.
"An explosive increase in Chinese overseas travel is unlikely to continue in case of further weakness in the yuan," Korea Investment's Park said. "Manufacturers competing head to head with Chinese rivals overseas will also come under intensifying price pressure."
Hyundai Heavy Industries Co., Daewoo Shipbuilding & Marine Engineering Co. and Samsung Heavy Industries Co. -- South Korea's Big Three shipbuilders -- reported a combined 4.8 trillion won in operating losses last quarter. They compete with Chinese shipyards in a global industry facing a glut of vessels and low freight rates.
Yuan Devaluation
Foreign investors sold $2.7 billion more South Korean shares than they bought since the start of July, the most among major Asian markets tracked by Bloomberg, as the prospect of higher U.S. interest rates added to the volatility and weakened the won.
The Kospi 200 Volatility Index, the benchmark gauge of demand for protection against swings in Seoul-listed equities, jumped the most in a month last week, according to data compiled by Bloomberg.
Should the won weaken further versus the dollar, the yuan's devaluation "isn't a losing battle" for Korean companies, according to Choi Hyun, head of Korea equity at Baring Asset Management in Seoul. He added that those relying on Chinese demand may see a near-term correction, he said.
"The market worries about continued weakness in the yuan which is luring investors to cash in on China-related shares with high valuations," Choi said "After a bout of correction which will probably persist for a while, we will look for some buying opportunities."
Before it's here, it's on the Bloomberg Terminal.
LEARN MORE