Billionaire FIFA Candidate's Disaster Relief Donation Probed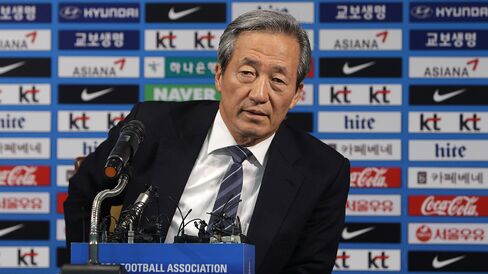 FIFA's ethics committee is investigating charity donations made by Chung Mong-Joon, the South Korean billionaire running for FIFA president, according to letters from the Asian Football Confederation to the sport's global governing body.
Chung, the second-largest shareholder in shipbuilder Hyundai Heavy Industries Co., sent $500,000 to Haiti following an earthquake there in 2010, and provided $400,000 to Pakistan after floods the same year. The money was supposed to be used for soccer development projects in the country.
FIFA said in April its ethics committee is investigating what happened to money sent to Haiti, including $250,000 from FIFA itself. The Asian Football Confederation asked FIFA's investigators to look into the Pakistan donation.
A spokesman for FIFA's independent ethics committee declined to comment, citing the active investigations. Chung criticized the investigation in a statement, saying his efforts were purely philanthropic and the charity he leads had provided assistance to several other disaster zones.
Chung, 63, who was a member of FIFA's executive committee for 17 years, officially announced his bid to replace Sepp Blatter in Paris on Monday. He's been an honorary vice president since being voted off the decision-making body in 2011.
The Asian Football Confederation's deputy general secretary Windsor John wrote to Pakistan's soccer federation on June 17 to say the matter had been passed on to FIFA's investigators because the funding had "not been used for its original purpose, i.e. the construction of a football center in the district of Jhang." The AFC had sent an additional $250,000 in relief money to Pakistan, according to correspondence between the national federation and the AFC in November 2011.
Land Request
PFF General Secretary Col. Ahmed Yar Khan Lodhi said the project hadn't started yet because the local government hadn't agreed to provide free land, which could take as long as five years.
"The moment the land is provided the project will start," he said by phone Tuesday from Pakistan.
In 2011, the PFF sent a detailed breakdown of how the money would be spent, including $480,000 on the soccer center, $90,000 on bleachers and $14,000 for an underground water tank. Around the time of the donations, Chung was trying to be re-elected to the FIFA seat he'd held since 1994. He was beaten by Prince Ali bin al-Hussein of Jordan.
In 2010, Chung sent letters to members of FIFA's executive committee, outlining plans to develop a $777 million fund that would disburse soccer development money around the world. A FIFA report into World Cup bids said the "letters created at least the appearance of a conflict or an offer of benefits to FIFA Executive Committee members in an effort to influence their vote" for Korea to host the 2022 World Cup.
"If these reports are true, we condemn this as a cynical and unethical effort by FIFA to misrepresent even charitable donations for political manipulation," Chung said in the statement about his donations being referred to FIFA's ethics investigators.
In May, the U.S. Department of Justice indicted 14 soccer officials and sports marketing executives on charges they engaged in decades of corruption. Among those charged was former FIFA Vice President Jack Warner of Trinidad.
U.S. officials say he misappropriated $750,000 -- the majority provided by Chung -- in Haiti earthquake relief funds, according to the BBC. Documents seen by Bloomberg News show Warner drew a detailed list of how the money should be spent.
Haiti's soccer federation president, Yves Jean-Bart, said very little of the promised aid arrived on the Caribbean island.
Warner, who leads a political party in Trinidad, denies all the charges against him and is fighting extradition.
Before it's here, it's on the Bloomberg Terminal.
LEARN MORE