Abe Aide Says Japan Needs 3.5-Trillion Yen Economic Package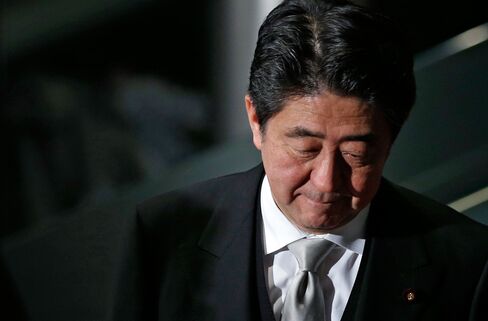 Japan needs an economic injection of as much as 3.5 trillion yen ($28 billion) to shore up consumption and stave off a further economic contraction, said Etsuro Honda, an economic adviser to Prime Minister Shinzo Abe.
"Households feel their income has been reduced," Honda, 60, said in an interview Tuesday at the Prime Minister's Office in Tokyo. "The negative legacy of the previous tax hike is waning, but increases in wages are lower than expected and prices of food and daily commodities are rising."
The world's third-biggest economy shrank an annualized 1.6 percent in the three months through June as households and businesses cut spending and exports tumbled. While the tailwind from the weaker yen and the Bank of Japan's unprecedented monetary stimulus have helped propel stocks to an eight-year high, consumer confidence has slumped.
Honda said a package of 3-3.5 trillion yen is needed to help lower-income households and pensioners. He suggested it should be delivered as subsidies such as child-care support or coupons, rather than spending on public works.
Additional spending can be funded from higher-than-expected tax revenues, rather than issuing new government bonds, he said.
Economy Minister Akira Amari said Monday he doesn't expect to add fiscal stimulus, and Bank of Japan Governor Haruhiko Kuroda is counting on growth returning this quarter as he pursues a distant 2 percent inflation target with unprecedented monetary stimulus.
'On Alert'
Honda said fiscal stimulus would be more effective than further central bank easing right now because it kicks in quicker. He said additional central bank easing wasn't needed now, but didn't rule it out later should inflationary expectations fall.
"We should be on alert. There should be some possibility, of course, for the BOJ to pursue its next round" of easing, he said.
Honda, a former Ministry of Finance official, has known Abe since they met at a wedding reception around 30 years ago. They played golf together at the weekend.
Before it's here, it's on the Bloomberg Terminal.
LEARN MORE