Ukraine Civilian Deaths Jump as Violence Worries Russia, EU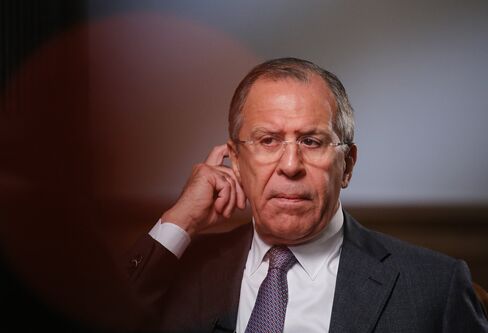 Civilian deaths in eastern Ukraine surged as Russia and Germany warned of further escalation and called for peace talks to ease the 16-month conflict.
At least nine civilians have been killed and 21 wounded since Saturday, according to the government and the pro-Russian separatists it's fighting. The two sides blamed each other for the casualties. Two Ukrainian servicemen were killed and seven wounded in the past 24 hours, the military said.
"We're concerned about the developments of recent days, which strongly resemble preparations for more fighting," Russian Foreign Minister Sergei Lavrov told journalists Monday in Moscow. He urged talks between Ukraine, Russia, Germany and France.
Tensions in the conflict, which has already killed more than 6,700 people, have reached their highest since February as the warring factions bicker over a peace plan signed that month in Minsk, Belarus. The renewed fighting adds to difficulties for Ukraine, which is grappling with a recession, the world's second-worst-performing currency and debt-restructuring talks.
Ukrainian government bonds due 2017 fell after debt negotiations in the U.S. last week failed to bring an agreement over $17 billion of borrowing. The bond dropped 0.55 cents to 57.49 cents on the dollar on Monday, ending a four-day rally, data compiled by Bloomberg showed.
'Strongly Condemn'
Military escalation could happen at any moment if the parties involved don't concentrate on the peace process, German Foreign Minister Frank Walter Steinmeier told his Russian and Ukrainian counterparts, according to an interview with Bild am Sonntag published Sunday. Ukraine, Russia, the separatists and the Organization for Security and Cooperation in Europe should hold talks as soon as possible, he told the newspaper.
"We strongly condemn this escalation of fighting and we call on all sides to cease it and to observe the cease-fire," European Commission spokeswoman Catherine Ray said Monday in Brussels.
Ukraine's Foreign Ministry urged Russia to take "immediate measures" to stem the intensified fighting. The ministry said in an e-mailed statement that it "would take additional efforts to attract proper attention of the international community to the dangerous escalation."
Before it's here, it's on the Bloomberg Terminal.
LEARN MORE