Saudi Businesswomen Tap Instagram to Bypass Men, Attract Clients
If she had chosen the traditional route to opening her accessories business in Jeddah, Rozana al-Daini would have had to enlist a male sponsor to represent her before government agencies and sign official documents on her behalf.
Instead, she sells jewelry, watches and wallets on Instagram, where Saudi businesswomen can avoid the gender restrictions they face in the kingdom. Her two-year-old business, Accessories_ar, has two employees, 67,000 followers and handles up to 25 orders a day. It also provides her with the ultimate empowerment: her own income.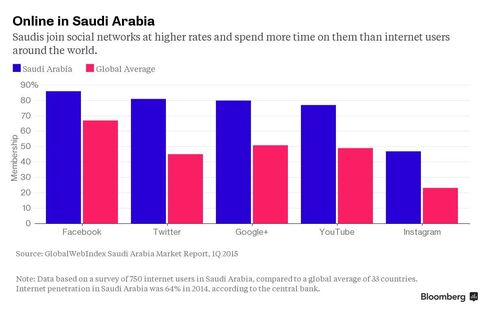 "I can solve any problems or difficulties, financial or otherwise, without the interference of family members," al-Daini, 20, said by phone.
Al-Daini is one of a growing number of Saudi women turning to Instagram to start businesses, gain market share and skirt limitations in a country where women can't drive and often need the intervention of a male guardian. They are part of an informal economy, and aren't counted in the 48 percent growth in the number of employed Saudi women to almost 806,000 between 2010 and 2014.
https://instagram.com/p/6Xpkbmpwga/?taken-by=accessories_ar
Women owned 12 percent of all companies in the Gulf nation of 30 million, according to a 2010 report from Strategy&, formerly known as Booz & Co. Although women are entering the workforce at a faster rate than men, owing to a push by the late King Abdullah, female unemployment was 33 percent last year, versus 5.9 percent for men, according to government data.
Ranking Low
Saudi Arabia's social and economic constraints on women derive from its Wahhabi version of Sunni Islam. In 2014, it ranked 137 out of 142 countries in economic participation and opportunities, and 138th in labor participation, according to the 2014 Global Gender Gap Report by the World Economic Forum.
Factors specific to Saudi Arabia have prompted women to create online businesses, said Khalid al-Khudair, founder and chief executive officer of Glowork, a Riyadh-based organization dedicated to female employment with 38,500 members.
https://instagram.com/p/1SqUNMpwgf/?taken-by=accessories_ar
"Social media has provided a venue for women who undergo some social restrictions or prefer not to work or deal with men," he said. Starting a business on Instagram "is very easy" compared with opening a shop, al-Khudair said in a phone interview. "The only obstacle they might face is the marketing aspect," he said.
Marketing Boost
For May al-Jasser, the owner of Alyamamah Gelateria in the Saudi capital, Riyadh, Instagram turned out to be a marketing bonanza. The former biology professor at King Saud University was struggling to get customers into her ice cream shop until she opened an Instagram account advertising her gelato carts with customer-chosen flavors. Sales improved "significantly" as residents placed orders for pool parties and birthday celebrations in Saudi Arabia's capital, she said.
"We are growing and have hired more employees," she said. "We are planning to open a new branch."
https://instagram.com/p/4KusxmJwo0/?taken-by=accessories_ar
Social networking is more prevalent in Saudi Arabia than the global average, offering an outlet to interact free from constraints, according to Evangelos Moustakas, associate professor in electronic marketing at Middlesex University in Dubai.
Where there are social restrictions, "the need for people to communicate becomes even higher," Moustakas, a former professor at Prince Sultan University in Riyadh, said by phone from Greece.
Networking Champs
Saudis spend an average of 2.65 hours per day social networking, compared to a global average of 1.69 hours, according to a survey this year by London-based market research firm GlobalWebIndex. Saudi Arabia also ranked first in the world for Twitter penetration, according to a 2013 study by Amsterdam-based PeerReach. The GlobalWebIndex survey found that nearly half of Saudi Internet users are members of Instagram, compared with a global average of 23 percent.
While entrepreneurs also use Twitter and other social networks, al-Daini said Instagram's photo-based interface was a natural fit for her business. "The photography affects people," she said.
https://instagram.com/p/1dqgkBJwjW/?taken-by=accessories_ar
Designed for smartphones, the application provides an easy way for creative Saudis to share their talent, Moustakas said.
Addanah Alnamlah, a 34 year-old mother of three, is using Instagram to showcase her home-based Delish Bakery. In four years, she's gathered 12,700 online followers, the former special education teacher said. If women customers are unable to pick up their orders, Alnamlah has them delivered, she says.
Baking "was always a passion of mine," and Instagram "is like having a shop," Alnamlah said. "I worked for a while in teaching, but found my passion at home."
Before it's here, it's on the Bloomberg Terminal.
LEARN MORE