Rousseff Seeks Rapprochement With Congress as Economy Slows
Brazil's President Dilma Rousseff is attempting to rebuild her alliance in the Lower House, shifting the focus from impeachment calls to pro-growth measures following mass protests on Sunday.
Rousseff dined with leaders in the Chamber of Deputies Monday night after a similar gathering with senators a week earlier. She has also reached out to social movements traditionally aligned with her Workers' Party and traveled across the country this month to boost her record-low approval rating.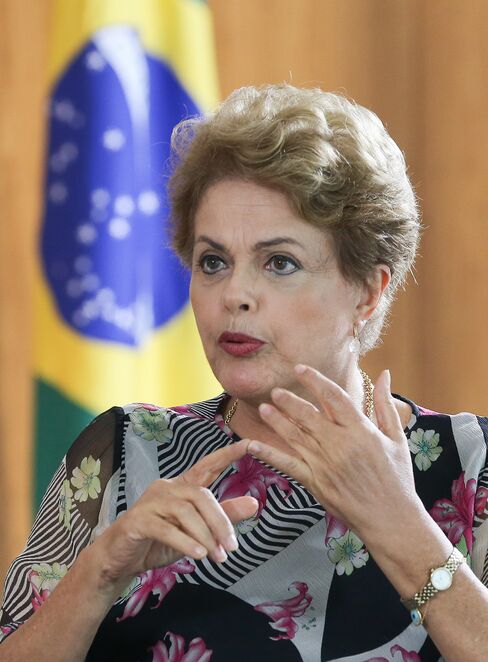 "They were important, significant demonstrations," said Social Communications Minister Edinho Silva, when asked about the anti-government protests that drew more than half a million people. "But the government at this point is much more concerned with building an agenda for the country, a dialogue with Congress and civil society."
Rousseff a week ago reached out to Senate leaders to establish a consensus on maintaining fiscal discipline, improving the investment climate and ensuring welfare benefits. For now, her meetings have helped allay concerns she will be removed from office. But the rapprochement with Congress will be tested as the economy heads toward its longest recession since 1931 and a corruption probe deepens.
"I'm neither pro-government, nor opposition," Senate chief Renan Calheiros wrote in Folha de S. Paulo newspaper on Tuesday. "This proposal is an attempt not to get closer to the government but to get further away from the crisis."
Senate Vote
The Senate could vote as early as Tuesday a bill to increase corporate taxes to help reduce the largest budget deficit in nearly 17 years.
Latin America's biggest economy will contract 2.01 percent this year and 0.15 percent in 2016, according to a central bank survey of analysts published Monday. The first back-to-back years of recession since 1930-31 hasn't convinced analysts inflation will slow back to target. High interest rates meant to tame consumer price increases have fed into popular frustration with restricted consumer credit.
"The crisis has greatly impacted the economy: people don't have credit, lost their jobs and are no longer able to go shopping," said Jankiel Santos, chief economist at investment bank BESI Brasil. "It's hard to imagine any respite for the government's popularity stemming from the economy."
Market reaction to the protests was mixed, with the real oscillating between gains and losses on Monday and weakening 0.33 percent to 3.4922 per U.S. dollar at 11:08 a.m. on Tuesday.
Biggest Threat
The biggest threat for Rousseff going forward are investigations into the alleged involvement of more than 30 politicians in a corruption case involving the state-run oil company Petroleo Brasileiro SA, Eurasia Group political consulting company, said in a research report on Monday.
The current reprieve "will last only until the next round of revelations from the corruption probe can exacerbate tensions again," particularly if they involve Rousseff's predecessor Luiz Inacio Lula da Silva, Eurasia Group said.
Unlike the protests in March and April, Sunday's demonstrations focused more on Lula and included a 50-foot tall inflated figure of him in prison garb, perched above the demonstration in Brasilia. By contrast, Sergio Moro, the federal prosecutor leading the investigation of graft at Petrobras, was held up as a hero.
Low Popularity
Rousseff ought to resign or present a clear plan to emerge from crisis, the country's former head of state, Fernando Henrique Cardoso, said on his Facebook page Monday.
The country's top electoral court has also yet to decide on a request by the Cardoso's PSDB party to annul Rousseff's election victory last year on grounds her campaign was illegally financed, requiring new elections.
A separate decision by Brazil's audit court on accounting practices used by the government last year could provide a legal excuse for impeachment, according to some lawmakers. Protesters Sunday called for the audit court to recommend that Congress reject last year's budget.
Rousseff faces the lowest popularity on record for a Brazilian president with only 8 percent of participants in a survey saying their president is doing a good job, according to an Aug. 4-5 poll by Datafolha. More than two-thirds of respondents said they support impeachment, the poll showed.
Before it's here, it's on the Bloomberg Terminal.
LEARN MORE