Bangkok Bomb Attack Kills at Least 19, Including Foreigners
A powerful explosion killed at least 19 people in Bangkok's central shopping district on Monday night, the deadliest attack in the Thai capital in recent memory.
The blast during rush hour left body parts scattered on the roadways and sidewalks in Ratchaprasong intersection, which is surrounded by shopping malls, luxury hotels and the Erawan Hindu shrine frequented by tourists and locals. Thailand's military government blamed miscreants who wanted to destroy the tourist-reliant economy.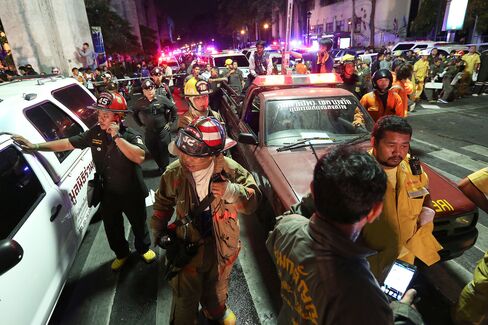 Nineteen people, including Chinese and Filipino tourists, were killed, the Ministry of Public Health said. Hospital officials are treating 117 people, many of whom are foreigners, according to the Emergency Medical Institute of Thailand.
"The criminals aimed to destroy the economy and tourism as the incident took place in the heart of the city," Defense Minister Prawit Wongsuwan told reporters. "This should be condemned as the type of devices they used show they aimed to hurt people and have an intention to create violence."
Military Rule
Thailand is currently under military rule following a May 2014 coup that deposed a government backed by former Prime Minister Thaksin Shinawatra. Parties linked to Thaksin have won he country's past five elections, leading to a backlash among opponents who saw him as a threat to the country's monarchy, which is protected from criticism by strict laws.
"It's too soon to conclude who is responsible for the bomb, but it's possible that it may be those old groups who lost benefit," Sansern Kaewkamnerd, a government spokesman, told reporters. "They want to create unrest and hurt tourism."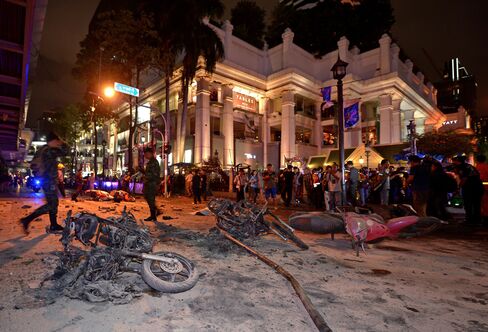 Markets were closed at the time of the bombing. The baht fell 0.4 percent on Monday, while the benchmark SET Index declined 0.4 percent. Banks and financial markets will operate normally on Tuesday, the Securities and Exchange Commission and the Bank of Thailand said. Bangkok Governor Sukhumbhand Paribatra said 438 schools in the capital will be closed Tuesday.
The explosion rattled windows in office towers several blocks away. An improvised explosive device was suspected in the blast, police spokesman Prawut Thavornsiri said by phone.
The Ratchaprasong intersection has been a central site for political protests in recent years, including demonstrations in 2010 by supporters of Thaksin that led to a deadly military crackdown. Ratchaprasong was among the places attacked in a series of bombings on New Year's Eve in 2006 that killed three people and wounded dozens.
Slowing Growth
The blast adds to concerns about slowing economic growth in Thailand in part due to political discord that has worsened over the past decade. Data released on Monday showed that the economy slowed in the second quarter on weak local demand and exports, with the outlook clouded further by drought and the devaluation of China's currency.
Junta leader Prayuth Chan-Ocha was aware of Monday's blast and will monitor the situation closely, government spokesman Werachon Sukondhapatipak said. The government called on people not to panic.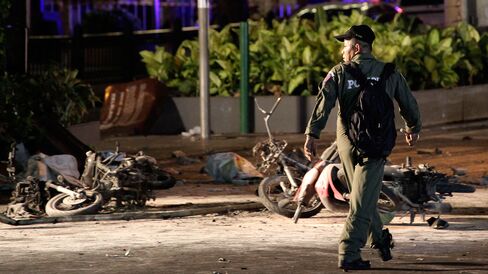 "Security officials are taking every possible measure to secure the area and conduct investigations while emergency services are in full response," Werachon said.
The bombing may lead to more repressive measures by the military, further protests against Thaksin or some sort of guerrilla warfare, according to Paul Chambers, director of research at the Institute of Southeast Asian Affairs in Chiang Mai. It's unlikely to be insurgents from Muslim-majority southern provinces that have largely avoided attacks elsewhere in the country, he said.
"Regardless, these bombings are surely going to send Thailand's economy south," Chambers said.
Before it's here, it's on the Bloomberg Terminal.
LEARN MORE