Olympic 1,500 Meter Champion Alptekin Stripped of 2012 Medal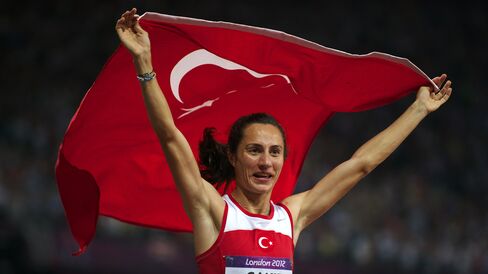 Women's 1,500 meter Olympic champion Asli Cakir Alptekin of Turkey has been stripped of her London 2012 gold medal for blood doping.
The Court of Arbitration for Sport approved a settlement between the middle distance runner and the International Association of Athletics Federations, or IAAF.
The 29-year-old will be banned from competing for eight years ending in 2021. All her results from July 29, 2010, onwards, which also includes a gold medal at the 2012 European championships, will be disqualified, CAS said in a statement on its website Monday.
The IAAF had referred her case to the court in Lausanne, Switzerland, after the athlete was exonerated by the Turkish Athletic Federation in December 2013. The IAAF had charged Alptekin with an anti-doping rule violation in January 2013 on the basis of her biological passport. Alptekin served a two-year ban after a steroid violation in 2004.
Alptekin took the gold medal in London ahead of compatriot Gamze Bulut, who will now be elevated to Olympic champion. Alptekin had improved her personal best time on the 1500 meters by almost nine seconds in the run-up to the London Games.
Before it's here, it's on the Bloomberg Terminal.
LEARN MORE